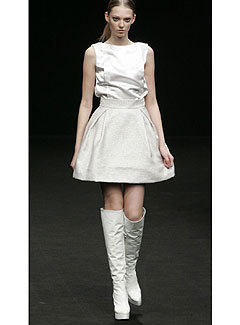 ShareThis
This week, BurdaStyle celebrates Parisian perversity.
FASHION
THE
NEW
GARDE
Paris is home to so many of the world's most resourceful brands and best designers that it seems churlish to demand more. Yet people do ask for more, and constantly, and they ask because in Paris, there is always more. The city is a magnet for minds of invention, ones that dream of better-yet jeans, or baubles luminous and strange, or couture like an orgy of organza and feathers. Many of the brightest minds become famous, justly so; some of them are famous by the time they arrive, and then become legendary. The really famous ones are too big to be Parisian; they and their designs are citizens of the world. But there are designers who belong to Paris, still. Here are a few.
Like New York, Paris is a design capital that draws and nurtures talent fleeing everywhere else. Designer Ece Ege arrived in Paris by way of Turkey, and since launching her DICE KAYEK line in 1992, she's helped to set the pace of local style, often by being more local than the locals. Both DICE KAYEK and subsidiary line DICE speak the lingua franca of classic French stylespare, unfussy clothes nevertheless inventive in silhouette, utterly rigorous, and perfected by a thousand nearly imperceptible details.
When Anne-Valerie Hash launched her eponymous line in 2001, her principal reputation was as a deconstructionist. Those first few collections were based around the idea of reworking men's clothes into women's: A pair of suit trousers transformed into a kicky dress, for example, its waistband emerging on a blouse lapel. Hash soon eased up on the deconstruction, but she still likes nothing better than to throw some androgynous sparks off her otherwise wearably feminine, beautifully tailored clothes. A recently-launched shoe line carries on in the same vein; last season's standout was a pair of black-and-white spats made over as a sculpted platform sandal.
Though Paris is most notably a center of high fashion, its sportswear brands are nearly as important and influential as anything on the catwalk. Agnes B., Paul & Joe, Vanessa Bruno, Isabel Marant and A.P.C. form the core of many a stylish girl's closet, and newcomer Marion Mille may take up ranks there, as well. Primarily a dressmaker, with a nice sideline in coquettish underthings, Mille hasn't quite found her footing yet, but there's an appealing ease to her clothes, and so much dress sense in each of her previous four collections, it seems safe to assume she'll find her footing soon enough.
Gaspard Yurkievich is already scandalous. The Paris native and ex-publicist is hip to the rigamarole of fashion week, so he games it: One notorious Gaspard show had male models simulating sex acts (fully clothed), another showed the men's line on beat boxers who popped and locked down the runway. This is tolerable because 1) Yurkievich seems to be enjoying himself, and 2) given all the noise around his shows, Gaspard's clothes are shockingly serious. (Well, at least the clothes for women.) Last season, for example, Yurkievich sent a fairly sober interpretation of '80s style down the runway, playing with some interesting ideas about how men's dressing, specifically hip-hop looks, could be imagined for ladies. His shoes, meanwhile, are consistently excellent, and can be found at his eponymous boutique in the Marais.