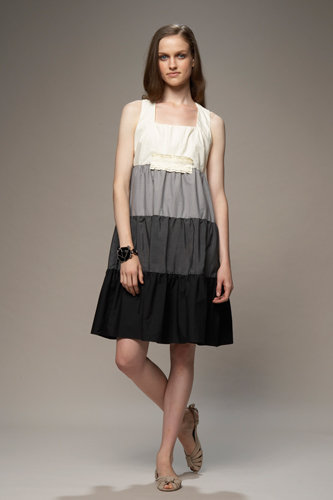 ShareThis
Italy has a fashion problem. Though Milan is home to some of the world's most enduring brands Prada, Armani, Versace and Valentino, to name but a few the city has birthed no breakthrough designers since Dolce & Gabbana teamed up and Consuelo Castiglioni came to Marni. And the last real creative jolt to hit Italy was imported: In many ways, Milan is still figuring out how to get out of the Tom Ford era of blockbuster fashion.
But the deans of Italian style know there's a problem, and they're taking steps to remedy it: Looking to Paris, the local industry's apprenticeship system is being updated; with an eye toward London's revolutionizing Central St. Martins, investments are being made in new fashion schools. And Vogue Italia has launched the "Who Is On Next" competition, taking a page from the GenArt, CFDA/Vogue and Ecco Domani franchises in New York. Evolving new talent will take time and may require stealing some of the brightest minds from Italy's exciting architecture and design scenes but in the meantime, here are a few of the Italian designers to watch.
Clone designer Bruno Bordese makes footwear out of oxymorons: His women's line includes rugged ballet flats, futuristic caveman boots and masculine stilettos, all of them crafted out of the buttery Italian leather and boasting typically oxymoronic low-key glamour.
Since taking first prize in last year's "Who Is On Next" competition, 6267 designers Roberto Rimondi and Tommaso Aquilano have won a reputation as the men likeliest to save fashion in Milan: To be sure, 6267 has all the hallmarks of a brand headed for big time, featuring wearable yet directional clothes with their own idiomatic sexiness. Recently tapped to revive cashmere label Malo, Rimondi and Aquilano thrive on multitasking
they conceived 6267 while at MaxMara, and incubated the line while working day jobs at other luxury houses.
Samsung is up to some unusual initiatives lately: The Korean corporation funded a short film by Entourage star Adrian Grenier, for example, and set Mina Lee down in Milan and gave her a fashion label. Derercuny is, to be technical, a Samsung innovation, but the tailored yet feminine clothes Lee and her team have designed bear no other relationship to your cell phone.