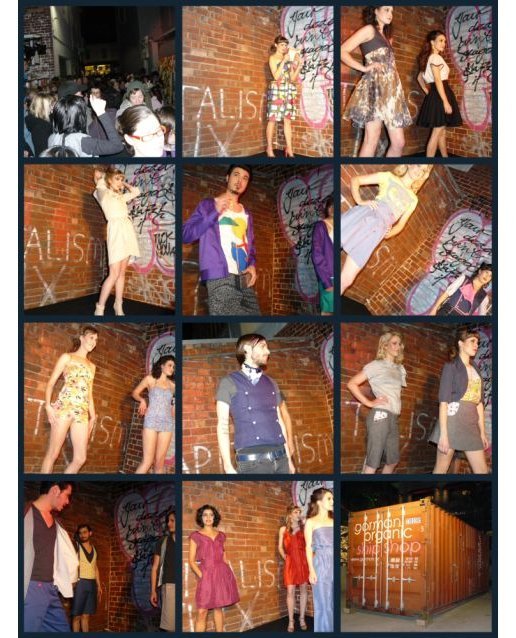 ShareThis
Well my plans for the sustainable fashion show were put to an end when I rang up for tickets and they were sold out. Note to self: don't wait, book well in advance! I did however get to the Thread Den's 57 Chevy laneway fashion show earlier in the evening. A fabulous 50's style show held in the laneway at the side of the Den. The show was also a launch for Biddy Bags in Australia. Biddy bags connects socially isolated nanas and mature-aged ladies through craft, economic participation and social networking. Check out their site for more details.
It was my first night out without Heidi since before she was born and as you may be able to tell I was pretty excited about that so I dressed up for the occasion. I was given a black dress by a friend sometime last year, sort of 50's style with a tuille skirt underneath, I think she wore it swing dancing. I thought it was perfect to wear to the show and was fine as it was but I thought it needed a little something to spice it up. I used some black fabric scraps and made a binding to add to the hem then made a few yo-yo's (or Suffolk puffs) and hand stitched them on near the hem. The whole thing took about 45 minutes, a quick and simple but effective refashion I think. I didn't have to spend anything on my outfit since everything I wore was free or something I already had. I wore the dress with a thrifted coat I'd bought back while I was pregnant and a bag I found years ago at a car boot sale in the UK for 50p. The shoes came from my wardrobe and some cute handmade jewelry.
After the show I met up with a friend. We saw a cheesy show at the theatre, which was bad enough that we left halfway through and went for coffee and cake at Pellegrini's, an old Italian coffee shop. I need to dress up and get out kid free more often, it was great fun!