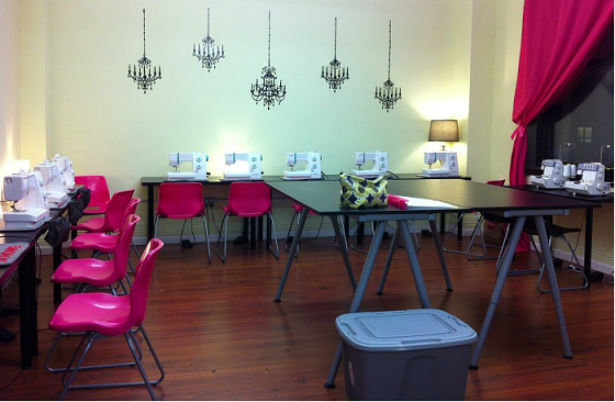 ShareThis
If you'll be in New York City next month, mark a trip to The Sewing Studio into your social calendar!
The Sewing Studio NYC's popular Sip & Sewcial event is back for two fun-filled evenings this summer!
Have a glass of wine, gossip with some new friends, and sew up a storm all at once! Join us at The Sewing Studio on July 11th or August 1st from 6-10 PM for this must-attend event. You'll have open studio time to work on any project of your choice, with an instructor there to answer all of your questions. What better way to spend a friday night!
And for all of our younger New York City sewers… sign up for one of our exciting day camps! With six fashionable camps to choose from, there's something for every stylish sewer!
American Girl Fashion Fun: In this class, students will learn how to design and sew their very own custom couture for their American Girl dolls! This is a great way for kids to put their creative talents to use and get them ready for sewing their own garments.
Junior Fashion Series: Here, students will make their own made-to-measure skirt and a stylish bag to go with it. They'll learn how to sketch and sew their custom skirt design, and make the bag from a pair of old jeans.
Lights! Camera! Fashion!: This exciting camp teaches kids how to revamp old clothing into new and trendy styles. After finishing their dazzling new garments and accessories, students can strike a pose in a fashion photo shoot… complete with a makeup artist!
Designer Purses: Love a designer purses, but not a fan of the price tag? In this course, students learn how to recreate three gorgeous designer purses by Michael Kors, Chanel and Juicy Couture!
Fashion Runway Week: In this exciting camp students get to start their own clothing line! Learn how to take your designs from concept to paper to reality. You'll design and sew a dress, as well as learn how to style the overall look.
Design Star: This camp will put you on the fast track to becoming a designer- it's all about the creative process. You'll learn how to get inspired by your surroundings to develop unique and innovative designs. Then you'll sew your own design!
Check out all of the camps and courses offered at The Sewing Studio NYC this summer.
Hope to see you there!