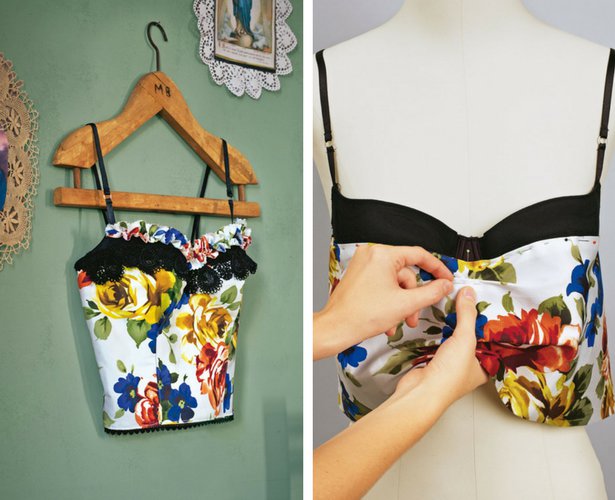 ShareThis
To find a beautiful corset that suits your own body and fits your bust is not an easy task. Here we show how a regular bra (that fits you!) can be used to make a corset. We also decorated it with homemade ruffles made of the same fabric as well as some lace to make it a little bit sassy. Tip: Make one for Halloween to complete your costume!

MATERIALS:
+ Fabric
+ Bra that fits you!
+ Dress form (or use yourself and get a friend to help)
+ Pins
+ Thread
+ Sewing needle
+ Scissors
+ Hook and eye tape or press buttons



STEP ONE: Put the bra onto your dress form or yourself. Place the fabric in the middle of the bra. Fold under the fabric 1 cm and pin.



STEP TWO: On the center front, cut out a 1 cm deep cross fold so that the fabric forms well around the bra cups.



STEP THREE: Pin a piece of fabric wrapped along the upper edge of the bra on the left back piece.



STEP FOUR: Pin the side seam together. Then repeat steps 3 and 4 on the right back piece.



STEP FIVE: Breast dart: Put a dart under both cups to the bottom of the corset.



STEP SIX: At the back of the bra-closure according to (top / bottom kick) fold fabric.



STEP SEVEN: Sew seams in the bra cup area by hand, sew remaining seams and edges with the machine. Then sew on the press buttons or hook and eye tape along the back.



STEP EIGHT: Sew on lace and ruffle by hand. Finish the lower edge by machine with lace trim.



FINISHED! Wear out as a costume, under a blazer with jeans, with a skirt to make a dress… or for lingerie! The possibilities are endless.


Happy Sewing!