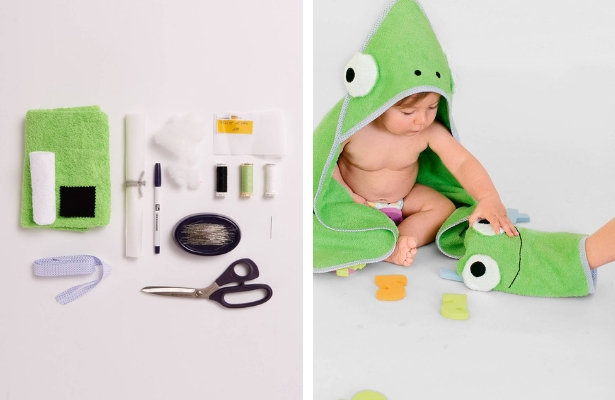 ShareThis
It makes bathing twice as fun! The washcloth is sewn of green terry cloth and decorated with white terry cloth and black cotton fabric to make a funny frog character and makes an extraordinary gift for new borns – you could even embroider for further customization. Read on to see the tutorial and free template, as it can be sewn in just a few steps!

+ Terry cloth green
+ Terry cloth white
+ Cotton fabric in black
+ Vliesofix
+ Embroidery fleece
+ Fiberfill
+ Yarn in black
+ Yarn in white
+ Yarn in green
+ Finished bias binding for bordering
+ Fabric marker
+ Pins
+ Scissors
+ Hand sewing needle
+ Pattern template (download here for FREE)



Step 1: Iron Vliesofix on the cotton fabric.
Step 2: Cut the cut pieces out of the terry and cotton fabric.



Step 3: Iron the pupils from the black cotton fabric over the white eyes.
Step 4: Sew the pupils around with a tight zigzag stitch.



Step 5: Put the white eyes on the green circles and sew all around (leave the opening to turn).
Step 6: Cut back seam allowance.



Step 7: Turn the eye over and fill with cotton wool.
Step 8: Sew the eye by hand.



Step 9: Record the frog's mouth with the fabric marker.
Step 10: Reinforce the area for the mouth from the back with fleece.



Step 11: Repeat the line with the fabric marker along the mouth.
Step 12: Sew washcloths right side together with the overlock machine (Alternatively, a zigzag stitch of the normal sewing machine is also suitable for this).



Step 13: For the hanger: Cut the edge band at approx. 10 cm, fold it up and sew it along both edges.
Step 14 Embrace the hem edge with the bias binding, while sewing in the hanger.



Step 15: Sew on the eyes by hand.



FINISHED! For the larger hooded towel, download the FREE template here and bind all edges. Then repeat the process of the frog eyes and attach to the towel.