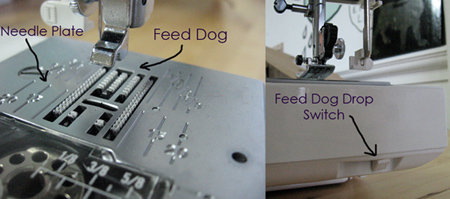 ShareThis
A sewing machine is an essential tool for anyone who makes clothing. Some of us are taught the various terms associated with the parts of a sewing machine from a teacher or family member. There are even more of us, however, who are never taught the exact terms and instead have taught ourselves, giving each part a name that describes what it does or what it resembles. This isn't a bad thing, but it can be handy to know the technical names for these parts in case you find yourself teaching someone, shopping for parts, or writing a How To to post on this site! So here are some terms you may not have known- and can be found in the Sewpedia:
vEer wonder what those grippy, tooth-like grooves on your needle plate are? I call them the "grippy things". They make up the Feed Dog which is the feeder mechanism that helps pulls your fabric through the machine. The name actually sounds like a made up name, but I swear, it's the technical term! Its very handy to have when sewing with slippery fabrics. However, these can also be pushed down, using a Feed Dog Drop for free form sewing. This allows you to manually push your fabric around under through the sewing machine as you wish, and is a handy tool if you decide to do some Free-Form Quilting and Fabric Making. The switch is usually located on the back of the machine, but you should check out your manual.
I'd love to find out the strange names you have for various machine parts and techniques, maybe we have some in common!