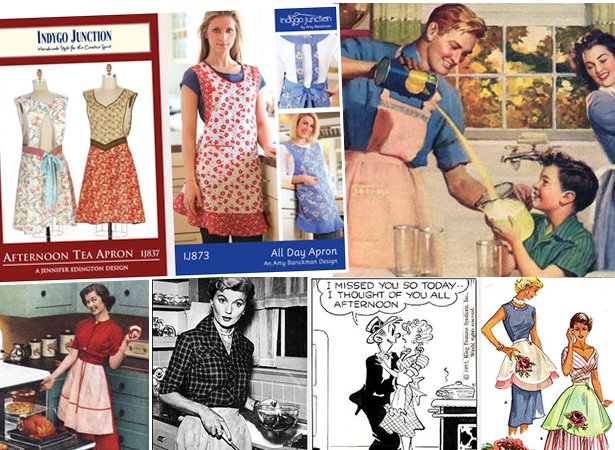 ShareThis
While an apron-like garment can be traced back to ancient Egypt, aprons, as we know them, evolved from the middle ages and their use by tradesmen – blacksmiths, cobblers, butchers, etc as protective gear. As other trades began to adopt the apron in their practice, they began to be made from cloth (versus leather for the rougher trades such as blacksmithing). And, as cloth began to establish itself as the material of choice, colors began to appear, denoting specific skills – barbers wore a checked pattern; butchers and porters, green; masons, white. The word "apron," in fact , is a more modern word coming from the French word "naperon," meaning napkin or small tablecloth.
During the mid 19th century, in the wild, wild United States, aprons were beginning to be used by an increasing number of women to protect clothing from the harshness of their daily chores and tasks. However, as the century came to an end, and prosperity swept across our culture, aprons began to be seen as class related garments and were frequently relegated to use by maids, cooks and others serving the upper class. There was a brief resurgence up the class ladder during and after the depression as money was tight and resources to wash clothes were at a minimum. However, times changed, the economy improved and 1920s America reveled in a post-suffrage feminism that viewed the apron as a symbol of domestic restraint. Not to mention that, once WWII was over and domestic machinery production could be re-aimed at consumer spending, the washing machine began to invade every post-war, GI-bill built bungalow from Boston to L.A. (thus making it less necessary to protect one's clothes with such vigilance).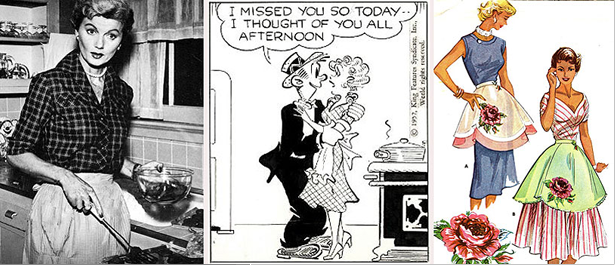 In the 1950s and 60s, thanks to Blondie Bumstead, Harriet Nelson and June Cleaver, the apron, again, saw a bit of a revival. This time around, television's shaping of the perfect woman saw the apron appear as a statement of fashionable domesticity. You weren't the perfect hostess if you weren't sporting a decoratively-trimmed, color- coordinated apron. But, social mores changed again and the apron was swept away with bras in the late 60's and early 70's.
Sadly, the apron never again took as big a place in the home as it did during the 50's and 60's…until today. Sure, the numbers aren't quite as big, but there's a lot of aprons being made and worn by 21st century women. Credit the resurgence in sewing, the advancement in technology or the rise of Etsy, but aprons are back in a big way and they are truly beautiful.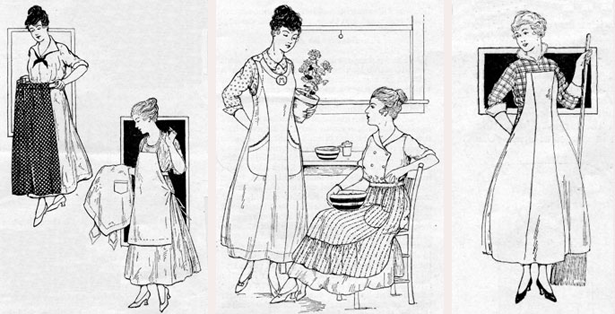 I love aprons! As a fashion sewing entrepreneur (IndygoJunction.com), aprons have always been a big part of the patterns we offer. As well, as the author of Vintage Notions, aprons appear prominently throughout my book. One of my absolute favorite publications in my collection I discovered during my book research. It's called "Apron Lore, Practical Suggestions About the Housewife's Best Friend". This 1916 piece contains a number of wonderful gems:
A waterproof apron of oilcloth or rubber, cut by the simple butcher's
pattern, while not pretty, is very serviceable, especially on wash day. The
wide cloth is cut in one piece and the cut edges are bound with a bias fold of
muslin. A damp cloth easily cleanses such an apron
(ed) So many wonderful laminates out today that could fit the bill for this
style
and…
If the apron pocket be set at the left instead of the right it is less likely to
catch upon knobs and projections. Another means of protecting it from
tearing is to set it beneath the apron, instead of upon the outside, and to
open it by a lengthwise slit faced back at the seam.
…finally,
Some cooks claim that the best apron to wear in the kitchen is one with
a ruffle across the bottom, as the ruffle stands out and flour or liquid
spilled upon the apron and running downward are deflected and thrown
outward instead of soiling hem of the dress skirt exposed below the
apron.
For those interested in reading the entire document, a PDF of the "Apron Lore" publication can be downloaded by clicking here.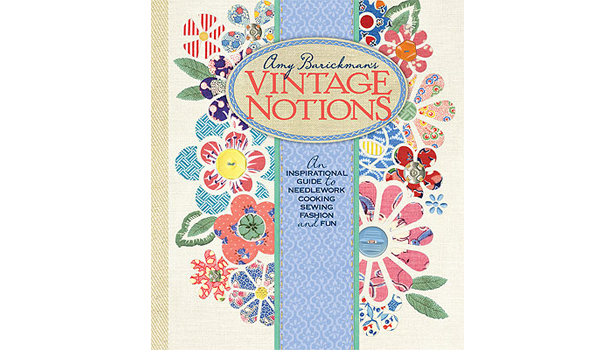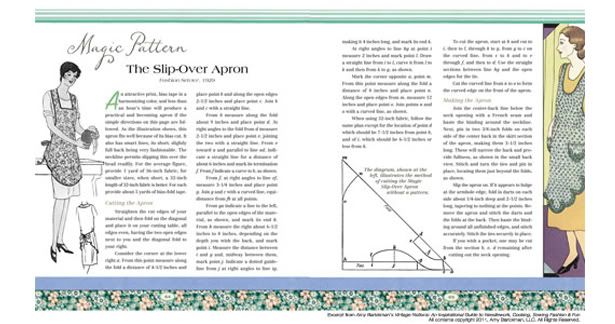 In my book, Vintage Notions, aprons appear no fewer than four times. And, as I've traveled around promoting the book's release, few have been as popular as the Magic Pattern for making a simple, bias-trimmed slip-over apron. The bias trim makes it easy to add a unique styling touch while the pattern itself is quite easy to make. As a give-a-way to my BurdaStyle readers, if you click on the picture of the apron spread above, you can download a copy of the Magic Pattern for your very own.
As I mentioned previously, my fashion pattern and supplies business, IndygoJunction.com, has been selling apron patterns for over 20 years. There are over 15 fantastic patterns available, with stylish options and varying degrees of construction. Over the years, each has been popular for its own unique reason:
- Our Afternoon Tea Apron (pattern number IJ837) has a unique back styling that's very flattering and has proven quite popular.
- The All Day Apron (IJ873) has a great silhouette and is too pretty to be required only in the kitchen.
- The Bon Appétit Apron (IJ715) has been popular due to its use of repurposed, vintage tablecloths in its construction.
- Our Stylish Smock Apron (IJ731) has a slimming front panel seen above in an illustration from Apron Lore.
To see examples of the all of the aprons mentioned above, including the man's shirt apron from Vintage Notions, take a look at a our Indygo Junction Apron Trunk Show video we just made. It shows a large number of the patterns we carry matched with beautiful, finished examples.
Never fear, though, if you're simply in a "where can I buy a fantastic apron" mood, there are so many talented folks out there you'll have no trouble at all adding an apron to you kitchen routine. Here are just a few:
- Valerie Wilson Reed's hostess aprons
- Pinafore-style aprons at Kitchen "Wear" Aprons
- The stylishly designed, yet very vintage-themed aprons at Stitch Thru Time
Are any of you already sewing aprons? Do you have fond memories of your mother, or grandmother, with her favorite apron? If you'd like a chance to win a copy of my Vintage Notions book, along with your choice of three apron patterns from Indygo Junction, then comment on this post and tell us about your favorite apron, yours or others, and we'll draw a winner from among the commenters.
Thank you again for letting me share my love of all things vintage…especially aprons.
~Amy
Amy Barickman is the founder and owner of Indygo Junction, The Vintage Workshop and AmyBarckman.com. She is a leader in the sewing, needle arts and retail crafting industry having sold more than two-million sewing patterns and published 80 books sold throughout the world. Her recent endeavor is the book "Amy Barickman's Vintage Notions: An Inspirational Guide to Needlework, Cooking, Sewing, Fashion and Fun", is already on its third printing since its release in September of 2010. Other best-selling titles include: "Indygo Junction's Button Ware" and, most recently, "Hankie Style".