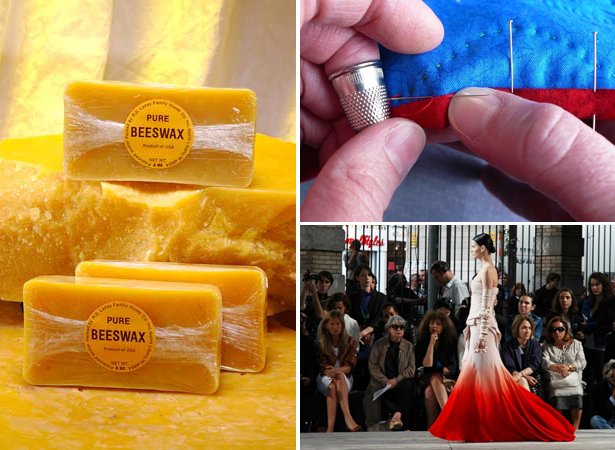 ShareThis
Hundreds of sewing patterns, sewing books, magazines and instructions and hardly any mention of this most useful sewing notion: beeswax.
It ensures durability of a finished garment and makes many hand-sewing tasks easier to execute. I am sure many of us worked on at least one of the following techniques where beeswax comes in handy:
Hand-worked buttonholes
Sewing on Buttons
Padstitching
Setting-in a sleeve by hand
Hemming
Inserting a zipper
Hand-stitched French Seams on fine fabrics
Inserting a chain on a Chanel-like jacket
Sewing-on patch pockets
Sewing fur
Quilting
Beading…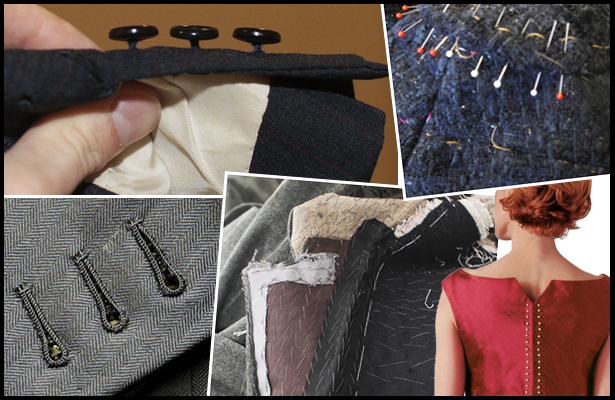 Photos courtesy of JeffreyTailor, Threads and Frabjous Couture.
---
Generally, any task that requires additional strength for a thread will benefit from using beeswax. Cotton and silk thread should always be waxed for one of the tasks mentioned above, but I also wax polyester thread to prevent tangling and to achieve some stiffness, so helpful with hand-worked buttonholes. Of course, every task will require specific thread and needle, so, for the best results, do some research before using the first available tool or notion.
Waxing the Thread
Usually, your thread should be approximately 36 inches long, or from your shoulder to the wrist – anything longer with snarl and knot. If you have to use a longer thread – for large hand-worked buttonholes, for example – work slowly.
Once cut, draw each thread two or three times through the wax, then press it with an iron between a fold of paper to blend the wax and the thread, and to remove excess wax. Ironing through paper is recommended to protect your ironing board and the iron from wax. However, it will absorb more wax, so if you want a stronger and stiffer thread try the following two methods.
Some professionals recommend pulling the thread between your thumb and the index finger to set the wax, or to wipe it with a soft cotton cloth, such as a clean cotton T-shirt fabric. I think these methods work well with good quality beeswax. In general, I would suggest to try all methods and see what works best for you and for the materials you work with.
Be careful, when sewing with white fabrics, however: beeswax may discolor the fabric or thread, so be sure to make a test first.
Where to Buy Beeswax
You will be surprised how much difference good quality beeswax makes, so try to find a good supplier. When I just started hand-sewing I used Dritz Beeswax, which comes with a handy holder. Now, however, I get my beeswax from Laney Honey – great quality and a 2oz beeswax cake is more than enough for home sewing purposes.
Another source is Bergen Tailors and Cleaners in the U.S., McCulloch and Wallis in the UK, or any other good tailoring supply store. I heard favorable reviews about these two stores but haven't tried their beeswax so far.
~Marina
Marina von Koenig is a couture enthusiast documenting her learning experience on her blog Frabjous Couture.