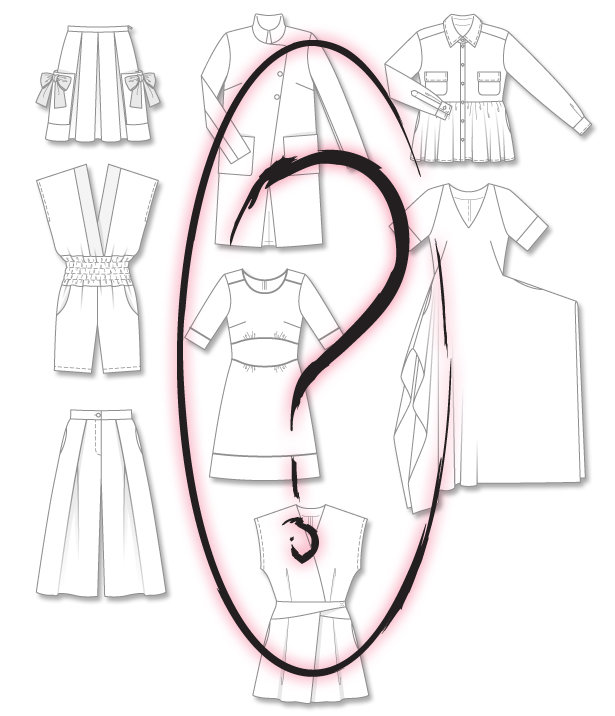 ShareThis
With the great success of all our past Member Model Challenges we wanted to really take it to the next level! All of our members are so talented and I love looking at all your sewn projects as well as submissions to the challenges. This time we are doing the ULTIMATE Member Model Challenge, where we have chosen a BurdaStyle magazine collection and we want you guys to submit submissions for ALL the patterns in the collection so we can replace the pattern main images with your pretty faces! You can submit a project for every pattern or just one. For this challenge we have chosen our Not Without Style pattern collection for you guys to put your spin on. Read to find out more!
For this competition you will have until the END of April to upload as many submissions as you want! You can make variations of any of the below patterns. Just make sure when you upload your project that you link to the pattern so we can find your lovely project.
To get your creative juices flowing I have showcased each pattern in the collection that qualifies with fabrics that I would consider making them in. Remember if the pattern calls for silk, you can certainly make with cotton or lightweight wool and vice versa. Just stick to the rule of thumb… Woven patterns need woven fabrics and knit patterns need knit fabrics.

Cheetah Printed Stretch Silk Woven; Lime Solid Silk Faile
This Wrap Dress has great style lines, and I love the warp style. I would make it in a bright fabric so all the details can shine.

White Solid Cotton Denim Blend; White Metallic Cotton Voile Print
I see these Culottes in a white fabric for spring!

Deep Mint Stretch Cotton Sateen; Light Gray Velvet Piping; Antique White Needle-Point Rose Printed Rayon Woven
This Dress has a flattering waist yoke that is accented by piping. I love contrast piping in garments!

Charcoal Foil Hearts Stretch Polyester Jersey; Metallic Royal Blue Glittery DTY Polyester Jersey
Maxi Dresses are awesome for spring and summer! I like the darts and short sleeves of this one and I think I would totally make it in that blue metallic jersey!!

Dapple Gray Silk Wool; Marc Jacobs Olive Floral Silk Faille
Jumpsuits are in style, and I'm liking it! This one is meant for cotton, but I'm digging it sewn in silk. I would probably panel the print and solid fabrics together.

Italian Red/Blue Plaid Flannelled Wool Coating; Lemon Curry Wool-Acetate Fleece
I like this coat's asymmetrical opening. For the spring I would want to sew it in a bright fabric like yellow, but for the winter and fall I love a good plaid coat.

Italian Aqua/Red Floral Cotton Embroidered & Eyelet; Red Cotton Batiste; Korean Metallic White and Silver Cotton-Polyester Woven
This pleated skirt is fun and flirty! I like the pleats and would probably downsize the bows a little bit. For day I would make in a print with matching bows, and for night I would make in a metallic. Those pockets will come in handy when going out on the town.

Carolina Orange Cotton Chambray; Turkish Slate Striped Cotton Canvas
I would wear this peplum blouse with simple skinny jeans or a pencil skirt. I would like to have one in a bright color like that salmon, or a simple stripe.
Contest Outlines
- This contest is open to ALL our members!
- Member will sew ANY to ALL of the pattens in the Not Without Style collection with no major outer construction changes (removing / add seamlines etc.)
- Member will photograph the project(s) and upload to our projects page with Ultimate Member Model Challenge somewhere in the title and linking to the corresponding pattern
- The top TWO projects chosen by the BurdaStyle.com team for EACH pattern will be voted on to select the winner! So there will be 8 votes in total, one for each pattern
In order to be considered for the contest you will need to upload your project by Thursday April 30th 11:59 PM EST. On Friday May 1st the BurdaStyle.com team will determine the two projects for EACH pattern and they will be up for YOU to vote on. Voting will close May 7th at 11:59 PM EST and the winners will be announced Friday May 8th and their photography will be uploaded as the main image for the pattern.
We will be looking for garments that have good photography / styling, quality construction, and best choice of fabric. Don't be afraid to panel fabrics and prints and add embellishments too!
If you are interested in making ALL or several of the patterns you can purchase the ENTIRE collection as a bundle here at a discount.
Have fun, and Happy Sewing!
Meg