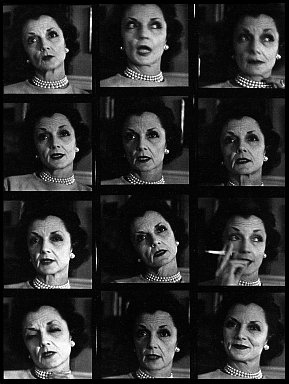 ShareThis
I am sorry to report that I am thinking about Paris Hilton. It's hard to avoid thinking about Paris and as usual, when I think about Paris, when I submit to thinking about Paris, even though I really don't want to think about Paris, I am thinking: Why?
Paris once said, and I'm paraphrasing, that every era has its blonde, and that she Paris Hilton is ours. This is not an un-interesting comment. Let's start our thumbnail contemplation of the blonde with Mae West, she who originated the quip "Is that a gun in your pocket, or are you just happy to see me?" Right off the bat, the blonde was the binary opposite of the classy broad, her come-and-get-me sexuality counterpoint to the reclusive smolder of the aristocrat. Mae West vs. Greta Garbo, in other words, Brigitte Bardot vs. Jeanne Moreau. The aristocrat might be blonde, or she might not in the '50s, the apex era of all-American blandness, uber-bombshell Marilyn got her blonde out of a bottle, and offed herself, while uber-aristocrat Grace Kelly came by her fair hair naturally, and married a prince but the fundamental distinction remained. The blonde was an object. The aristocrat had subjects.
All that broke apart in the '80s, with Madonna and Princess Di. Inarguably her own creature, Madonna was a Mae West throwback with a "boy toy" belt buckle. Paparazzi darling Diana, meanwhile, was the people's princess, tarrying in august halls. High culture and low confused themselves, as Diana dished and Madonna donned couture, and not long after Di died the tabloid death and Madonna moved to Kensington, the international implosion of trash and taste begat: Paris. And she is sui generis. Famous for nothing other than being famous, she lofted to her airy perch atop Google's most-searched list of 2006 on the wings of money, family money, relatively old by American standards. Without it, Paris Hilton might still be notorious, she might be a C-list reality star, a fourth-rate pop singer and a cooch-flasher, but would anyone have cared where she shops, or hacked into her Sidekick? Hardly. The money matters. The blueblood upbringing matters. And that means, therefore, that this era's own bawdy blonde is the same person carrying the torch for class these days.
And when I write "class," I mean not only the tax-bracket kind of class, but also class in what it connotes the town and country values to which Americans in general used to aspire. Work hard, play hard, train to Greenwich, Buffy blackballing Muffy at the club and so on. Plaid golf pants. Skull and Bones. Taste, comportment, circumspection. To judge by Paris, this latter type of class is going out the window. To hell with some of it, sure, and yes, there's a long and possibly proud history of moneyed gals going off the rails think, Talitha Getty in Morocco, Jackie sunning on the deck of Ari's yacht, Edie Sedgwick. Think Patty Hearst, if you like. There used to be some panache in slumming. But Paris Hilton has no place in that tradition. She represents the coming of something else, something new: Ameritrash.
This, I believe, is the importance of Paris Hilton: She is the beginning of the end. Eurotrash emerged after World War II, as the legendary powers of the continent watched themselves dim. Their titled young found themselves with no pressing obligation to country or colony, and thus with no better place to spend their energy but on decadence. If the United States is, likewise, entering its phase of hedonist aristocracy a generation pleasantly assured both that the money's in the bank and that their services are not requiredthen we might as well cede the next few hundred years of cultural hegemony to the Chinese. When bluebloods have nothing better to do than squander themselves, as Paris seems to when the rich, to put it another way, aren't nervous, then the rest of us damn well ought to be. We should all be thinking about Paris, in other words, and thinking hard.
TAG FOR THE REST OF THE WEEK: This week, BurdaStyle tips its hat to old-fashioned class people, styles, stuff and ideas worthy of a new look.