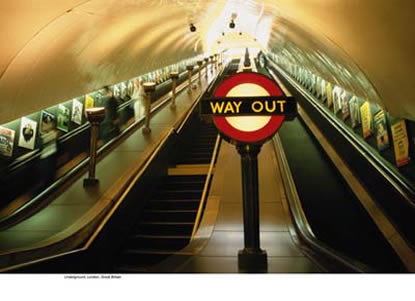 ShareThis
You have to want to love London. It's not a city that reaches out for you it lacks the romance of Paris or Rome, the crazy dynamism of Tokyo or Hong Kong or New York, the grittiness of Berlin; coming to London as an American, speaking the language, there's no edifying strangeness and no mistaking that the locals would just as soon do without you. I have friends, many of them, who visit London for the first or second or third time and return home befuddled by the fact that I love London as much as I do.
And I do. I love London because I always wanted to love London. I loved the idea of the city, an idea that's now so hazy in memory, all I can remember about it is a stray line or so from Shakespeare this sceptred isle, this earth of majesty, this seat of Mars, this other Eden and the "Bittersweet Symphony" music video. My imagined England was in there, somewhere. But any city you love in advance is one you hope to find but never do. The London I love now is the one I made for myself by living there.
Britpop had peaked, but no one knew that yet. When my roommates and I signed the six-month lease on our Notting Hill flat, the neighborhood was still thick with untapped potential. We were four American girls, all just out of school and newly free, and looking back, I believe we all came to London to take the measure of our freedom by seeing how unlike ourselves we could become. A few months prior, I had been a student of Russian hunched over Dostoevsky. Upon arriving in London, I was a music journalist, a vocation I'd settled on partly because I loved music and partly because it seemed like the handiest way to meet cute and shaggy English boys. (Eventually, I'd meet plenty; more than enough.) By the time I left London a year later, I was convinced I was an actress. Anywhere else in the world, it is hard to credibly describe oneself as a music journalist/actress, but in London, at that time a great place for dabblers, it made sense. At a concert one night I met a director who needed an American girl for a scene in his film: These things just happened, the way it just happened that I found myself having lunch with Pulp frontman Jarvis Cocker two weeks after moving, the way it just happened that one of my roommates became my best friend, the way it just happened that the owner of Coins, the scenester café where we'd camp out on weekend mornings, would hire me under the table now and then, when the money got tight. It felt normal to be lucky in London, as though all I'd needed to do to start the engine of my luck was book the flight, and show up.
Eventually, the luck ran outstarting with my visa. I did various things to put off the inevitable, up to and including a serious conversation about marriage with a Scot cinematographer who wanted a way to L.A. I suppose I could have just stayed, living cheap on freelance gigs and Coins, but by the time it became necessary to leave London, I was ready to go. The shine had worn off all the small things I'd treasured for a year pints at the pub down the street, Portobello market on Saturdays, openings at the Serpentine, the view of the city from Primrose Hill, parties at the Groucho and Soho House. London had ceased to be the place I'd come to, dreaming, and then it had ceased to be the place I'd despaired of making my own. It had become, prosaically, the place where I lived.
So I moved to New York. And every time I return to London, a little more of my city is gone. A person moved, a shop closed, a band broken up, a neighborhood changed. But I always find time to get lost at least once while I'm there and it's then, staring around at unfamiliar streets, looking for landmarks, and realizing at last that I know where to go because I know where I am, that I discover my London all over again. It's a great city for finding yourself.
This week, Burdastyle rocks London-style.