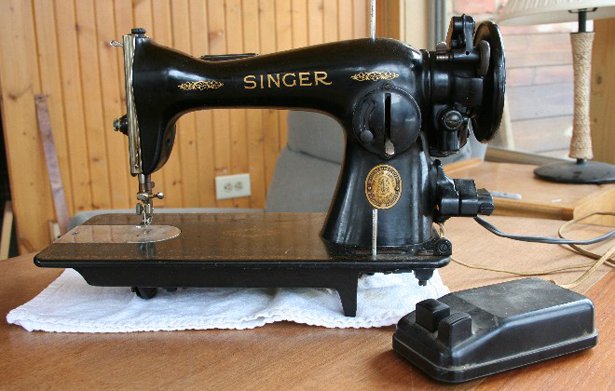 ShareThis
A few months ago, I received an email from an enthusiastic Male Pattern Boldness reader, telling me I had helped convince her to buy a vintage Singer straight-stitch sewing machine. I'd been spreading the word about vintage sewing machines on my blog since the beginning, but I never thought anybody was actually paying attention!
I'd like to share some of my enthusiasm for these machines with all of you here at BurdaStyle today. Here are my TOP TEN REASONS TO GIVE A VINTAGE MACHINE A TRY.
1) Many wonderful vintage sewing machines can be purchased online for less than $75, including shipping, and at local thrift stores, garage or estate sales for even less. Check out the "Completed Listings" on eBay and you'll see what I mean. I consider "vintage" to be any machine more than thirty years old. Many fully functional machines this age (or older, much older) can be had for a song. Some of these have names you'll recognize like Singer, Kenmore, and Viking. Others are more obscure. When in doubt, ask the seller about a machine's condition. (You can also ask to see a stitch sample.)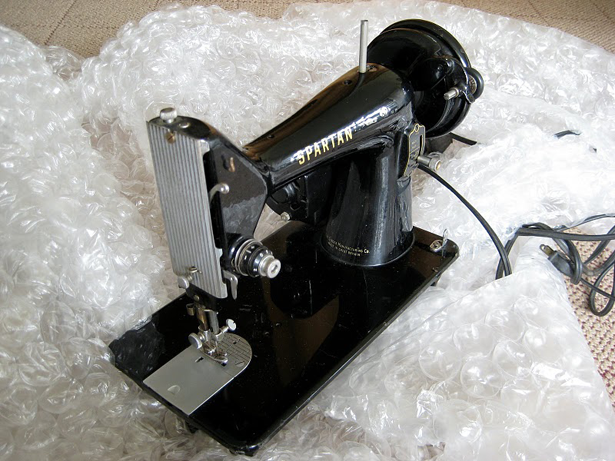 2) A vintage machine is a "greener" choice. We all know by now that we live on a planet with finite resources. It makes sense to give new life to a perfectly functional, albeit second-hand machine.
3) Vintage sewing machines are mechanically less complex, break down less often, and are easier (and cheaper) to repair. With vintage sewing machines, there are no motherboards to break down, no computer circuits that can get fried from an electric surge in a thunderstorm. With a vintage mechanical machine, it's generally just a question of sufficient oiling and the occasional tune up if necessary — and it often isn't. (You WILL want to make sure wiring is intact, however. Ask!)
4) When you buy a vintage sewing machine, you're connecting with a piece of history. There's something about using a piece of equipment from the past that nourishes the soul. We're connecting not only with those who used the machine before — sometimes our own ancestors — but also with those who manufactured it with pride. Singer actually makes available information about their old machines on their site, and you can find out the exact day they were manufactured!
5) Vintage sewing machines have already proven their reliability. If a machine is more than forty or fifty years old and still works, that tells you about the quality of its design and manufacture. Many vintage machines available today were top of the line and still perform flawlessly.
6) Most vintage sewing machines use the same parts — presser feet, needles, bobbins, and bobbin cases — as new machines. Most of the accessories for old machines by major manufacturers like Kenmore and Singer are relatively easy to find — if not in stores, then certainly on eBay. Very little has changed in terms of the basic equipment necessary to sew on a mechanical machine.
7) Vintage sewing machines are beautiful. Just like the automobiles of their day, the sewing machines of the Thirties, Forties, Fifties, and even Sixties were uniquely styled, with personality to spare. Just like so many cars today look virtually alike, most contemporary sewing machines have a bland, cookie-cutter quality. Gone are the vivid pinks, blues, and greens, the chrome, the eccentric lines, and the futuristic styling.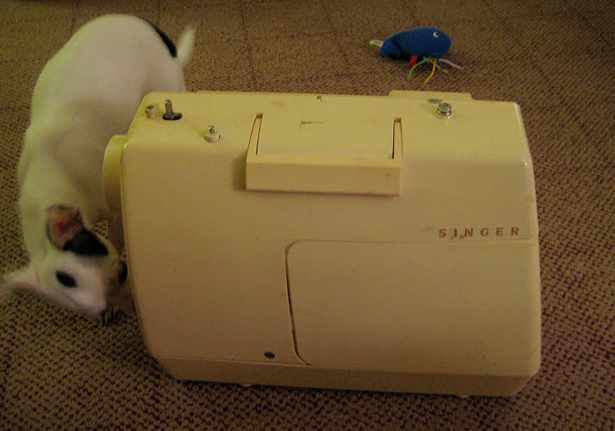 8) Using vintage machines is cool. Just like people who wear vintage clothes tend to be at the forefront of things, people who sew on vintage machines are generally independent-minded.. They're saying, No, I'm not going to buy the latest model with all the bells and whistles; I'm opting instead for something simpler that better reflects my values.
9) Vintage sewing machines last longer. Will future generations still be sewing decades from now with the primarily plastic machines for sale today? We'll see.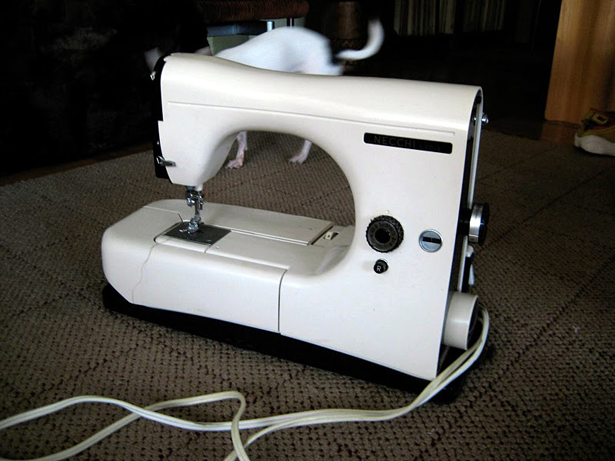 10) Vintage sewing machines are plentiful. Most sewing machine store in New York City closed a long time ago. But go on Craigslist or eBay, and they're everywhere. If you buy on Craigslist, you can actually view and test the machine first to make sure you like it. (Bring a fabric sample, and maybe some thread.)
So readers, I ask you: Do you ever sew on a vintage sewing machine?
Have I convinced you to give one a try?
New or vintage? What's your next sewing machine going to be?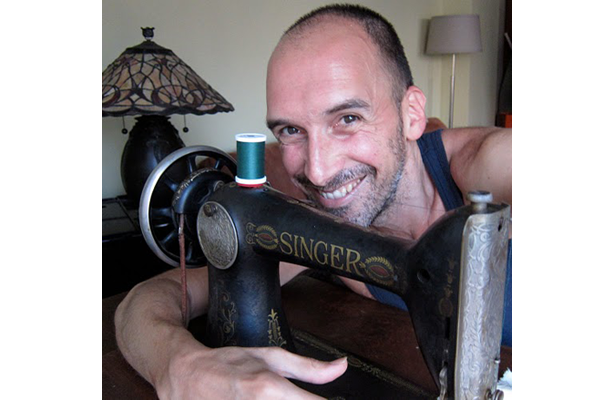 When native New Yorker Peter Lappin bought his first sewing machine two years ago to hem a pair of thrift store jeans, little did he know he was initiating a journey that would bring him fame and fortune. While awaiting his fortune he stays busy writing "the world's most popular men's sewing blog," Male Pattern Boldness, and now contributing to BurdaStyle.
"For more than twenty years I'd lived on the edge of the Garment District without even knowing what a seam ripper was. Now I rip daily!"