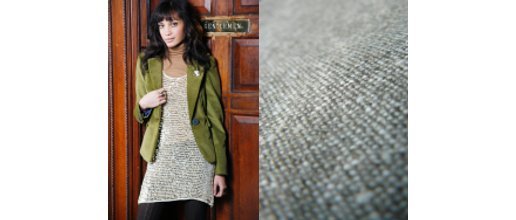 ShareThis
Hey there! I'm finally getting back into the swing of things after the craziness of having a baby in the house. Heidi is now four and a half months old; time seems to have really flown by but it has been a pleasure, she is such a good baby.
I feel like I can now start sewing clothes for myself again after so much shape changing. I made a few skirts while I was still pregnant which fit for a little while but soon they were too big on me and needed to be altered. The sewing machine ended up gathering dust and I took to knitting for a while but now I'm almost back to my pre pregnancy weight I've decided it's time to start sewing again!
I've had fabric ready to make the Jorinde jacket for about six months but was scared to cut into the expensive fabric until I knew my body shape would not change too dramatically. So now is the time to make it I think. I have suggested this pattern in the forum for the next sewalong; I figure we could all use a jacket in our wardrobes whether we're heading into autumn or spring. Some members seem to be keen on the idea and there's not been much interest in any other patterns. So I thought this sewalong could use any of the jacket patterns here on the site so that those who have already made Jorinde or have plans for another jacket can sew along.
Over the coming weeks I will document each step of making the jacket here on the blog and in the forum. I will post regular how-to's for each step for those members taking part in the sewalong that need them. This pattern may be a little advanced for some but please don't be scared, I'll be going through it slowly step by step and I encourage you to give it a go, heck I'll be learning a lot along the way too so if I can do it I know you can too.
My fabric is too expensive to cut into without checking the fit of the pattern first. So this week I'll be making up a muslin, I have cut out the pattern in a size larger than I normally would and once I have it sewn together I will make markings directly onto it for alterations I may need to make. There will be more details in my next post about how to do this with tips and links that may be useful.
There have been some wonderful variations of the Jennifer blouse for the last sewalong. I wasn't too keen on this pattern to begin with but I think my mind may have been changed. The Anda mini challenge entries have blown me away! I think each and every one of you that took part deserves a prize. I love how these challenges bring out the creativity in you; it's amazing what talent we might find lurking in our members. Watch out for another mini challenge soon.
If you feel like taking part in the jacket sewalong head on over to the forum and let us know your plans. Tell us which jacket you intend to make, show us your fabric and let us know of any alterations you may like to change.