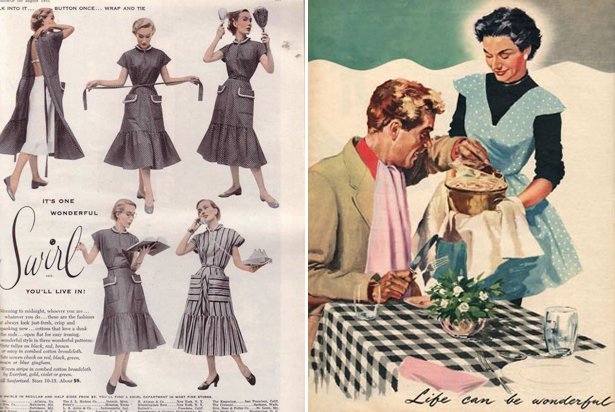 ShareThis
Growing up in the 70s and 80s my mother would often talk about the way housewives from her mother's generation were treated unfairly and how the only job my grandmother could get outside of the home was as a waitress. My mom also had books like The Cinderella Complex and early editions of Cosmopolitan magazine on her nightstand.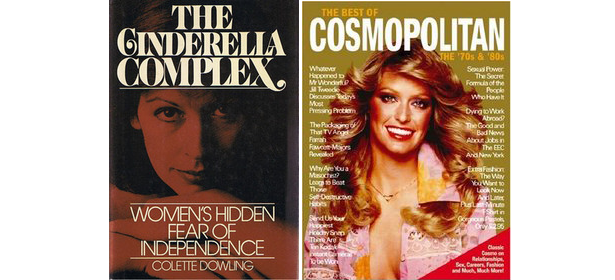 In the 70s and 80s it was considered old fashioned to be domestic. Cooking, cleaning and sewing were reminders of a time when women didn't have many choices and girls were forced to take home economics classes in high school. Sadly you would be hard pressed to find a school today that still has sewing in the curriculum, as most of these programs (and arts programs in general) have been cut due to tight budgets.
It was during this era that society at large preached for women to get out of the house and pursue more "satisfying" work. Sewing machines were left in the closet to gather dust and the housedress was a relic of an earlier time when women didn't have any other choice but to be housewives. Now young women wanted to be like Mary Tyler Moore in her career world filled with stylish pantsuits and scarves, making her way in what used to be a man's world.
It would be awhile before businesswomen like Martha Stewart would usher in the return of the domestic arts and actually make these pursuits fashionable again. My image of the housewife was formed by TV shows like The Brady Bunch but I certainly never saw Carol Brady in a housedress, she didn't need one when she had Alice to do all the cleaning for her! Someone who DID wear housedresses was the busybody Mrs. Roper from Three's Company, always getting into the business of the cool, liberated folks downstairs and quickly tying my association of the housedress to the muumuu and nosy old women. Speaking of muumuus, who would have thought that style would ever make a comeback?

Mrs Roper, everyone's favorite busybody. A Butterick muumuu pattern.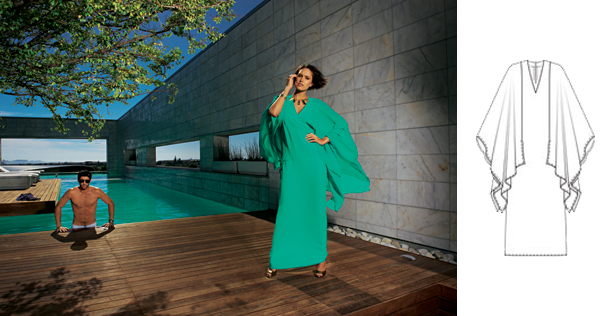 BurdaStyle's Batwing Sleeve Dress pattern, a much more fashionable take on the muumuu dress.
Thankfully, women can now pick and choose their lifestyles and we have those earlier feminists to thank for that – even if they did tip a bit to the other side of the pendulum. To be honest, I actually feel fortunate that I can afford to be a stay at home mom. The modern DIY movement has adopted practices from our self-sufficient grandparents like sewing, canning, and maintaining food gardens and I believe that the return to the ways of the past are a reaction to our consumerist and disposable culture. Of course, many people never stopped doing these things in the first place, but now they seem to be fashionable again. All you have to do is look at bookstores packed with titles about self-sufficient and sustainable living, not to mention all the blogs out there masterminded by people who are literally taking things into their own hands.
So what about the poor misunderstood housedress? It really never went away and designers like Diane Von Furstenberg have updated the style for the modern woman. Her wrap dress was actually a housedress disguised for the modern woman: a utilitarian design closing with a wrap tie, and comfortable enough to wear while doing things around the house.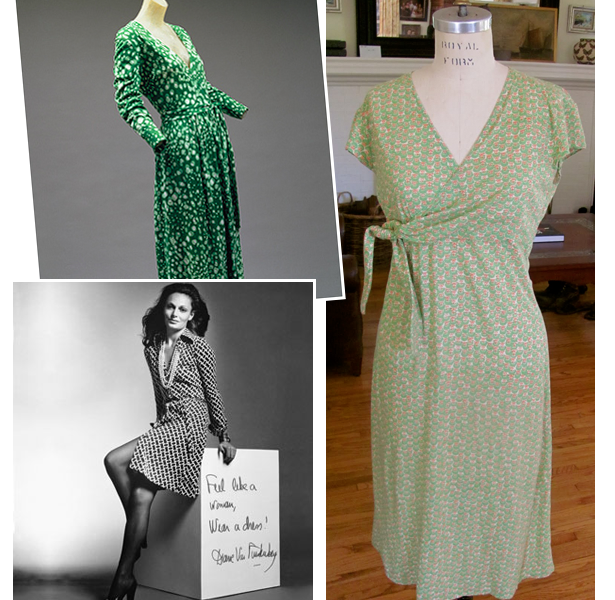 The classic Diane Von Furstenburg wrap dress, first designed in 1975 and still being made by her (and widely copied) today. My version of the wrap dress sewn from Burda Pattern 7828.
On the other hand, some housedresses from the 60s or later morphed into the shapeless style worn by Mrs. Roper or became the zippered robe. Positively depressing, darling! Housedress patterns from the past are still relatively easy to find and would be a fun venture into the realm of vintage sewing since many of them are pretty simply constructed. Below are some examples of housedress patterns from the 40s through the 50s:
Isn't it funny how these patterns were once considered only suitable for wearing at home, while if you would wear one out now you would be considered dressed up? In today's super casual culture where people wear flannel pajamas to the grocery store, the humble housedress now seems positively elegant!
So of the five housedress patterns shown, which is YOUR favorite?
~Justine
After moving from Los Angeles to an old farmhouse in the country with her husband and four children, Justine Abbitt (a trained fashion designer) found shopping outside the city rather uninspiring and difficult. So, she decided to get busy with her needle and thread to start making things for herself and her family. Looking to get in touch with other DIYers she started her sewing blog, Sewcountrychick, which is also about country living through an ex-urbanists perspective.