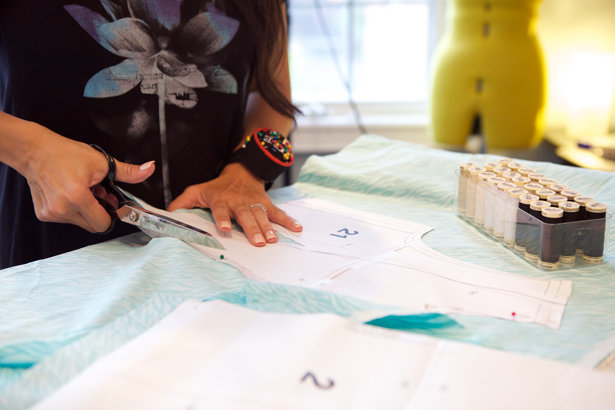 ShareThis
All fabrics can be categorized into either being a knit or woven fabric. The simplest way to determine if a fabric is a knit or woven is if it is stretchy or not… Woven's do not naturally stretch, and knit fabrics do. There are a lot more things to learn about the different characteristics of fabrics, but when sewing it is very important to know the difference and also know what type of fabric your sewing pattern is meant for. There are few patterns that the fabric can be interchanged. Read on to learn more about knit and woven fabrics and their characteristics…
Wovens and knits are both made up of fibers. There are two types of fibers (staple and short fibers, and filament fibers), those fibers are then twisted into yarns. Yarns are then woven or knit together to make fabric!
Woven fabrics are interlaced. They can be interlaced into various types of weaves like plain, twill and satin.
Knit fabrics are interlooped. There are again various types of ways that knits can be knitted. For example warp knits make jersey, rib knit, terry cloth, and velour. Weft knits create tricots, and everyday socks, and sweater garments.
When you are in the fabric store and need to determine if a fabric is knit or woven, you can pull the yarns and if they fray and come out of the fabric it is a woven fabric because you can pull the weave apart.
Above is a basic muslin fabric that is un-processed and is a plain weave fabric. It has no stretch to it, so you can also preform a stretch test to the fabric to see if the fabric has any give to determine what type of fabric it is.
But… You can purchase woven fabrics that do have stretch to them. This is done in the fabric weaving process and elastic fibers are also woven with the yarns to make the fabric have elasticity. Example being stretch denim (which is every girl's best friend).
Above is a simple woven plaid fabric, and it has a slight bit of stretch to it. This means that elastic is woven into the fabric, but I know that it is still woven since I can pull apart the yarns and the fabric frays.
Knit fabrics unravel and don't fray. So first off you can tell if a fabric is knit, if you can 1. stretch the fabric, 2. see the knit "ribs" of the fabric, and 3. pull the yarns of the fabric and it unravels into one big piece of yarn (woven fabrics will fray into a bunch of smaller yarn pieces).
Knit fabrics can take on more of a traditional "knitted look", or be sleek and sheer like a mesh.
Each knit fabric has its own stretch factor, so it is important to stretch your knit fabric to see how much it stretches because this determines sometimes the pattern size you cut out for the intended fit. What makes really stretchy fabrics stretch a lot (like swimsuit, and spandex fabric) is that elastic fibers that are already stretchy on their own are knitted with the yarns to make an ultra stretchy fabric.

Pleated Hem Blouse; Long Sleeved Keyhole Blouse.
In our pattern store on each pattern page you can determine what fabric is meant for the pattern. If it reads any type of jersey fabric, or fabric with stretch then you need to use a knit fabric. And if there is a fabric mentioned like cotton, linen, denim, etc. then you need to use a woven fabric.
You can also determine by looking at the pattern style. If the garment is tight fitting and has no darts or closures (like zippers and buttons) then the pattern needs to be sewn in a knit. If the garment has darts, and a lot of details like pockets and zippers then the pattern is meant to be sewn in a woven fabric.
Now in terms of sewing machines… Sergers are meant to actually SEW knit fabrics together because the way the threads are overlocked around the knit fabric edges allows the seam to stretch and the seam will not "pop". Sergers for woven fabrics are meant to finish off the raw edges and stop the woven fabrics from fraying. Regular sewing machines are used to sew woven fabrics together with a straight stitch. You can also sew together knit fabrics with a regular sewing machine, you just need a ball point needle and use a zig zag or stretch stitch setting.
Do you prefer to sew with knits or wovens?
Happy Sewing!
Meg