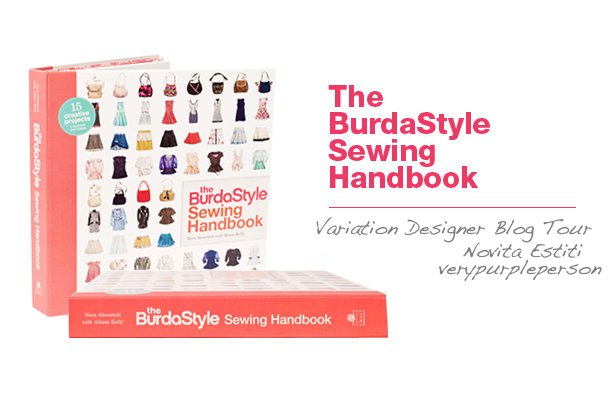 ShareThis
We just can't get enough of our talented variation designers from The BurdaStyle Sewing Handbook! This week get the scoop from Novita Estiti (aka: verypurpleperson) and the process behind the creation of her striped top project based on our Blouse Pattern.
When I opened my mail one morning and found an invitation to participate in the BurdaStyle Book project, I was very excited. My first thought was, it's about time for BurdaStyle to publish a book! And of course I'm thrilled to be a part of it. This is kind of a[n] historical moment, isn't it? I was sent two designs as the base for my pattern variation, one [was] for a bag and the other one [was] for a blouse. Along with that, BurdaStyle also sent me a fashion flat sketchpad to help me [make] better sketches. Unfortunately, my initial try to use the sketchpad didn't end well, my sketches were terrible. Well, actually I only managed to use one sheet of the sketchpad, drawing and erasing continuously before giving up. This is a useful tool indeed, but [it] just [wasn't] for me.




So I went back to my usual tool, the computer. I used CorelDRAW for making my sketches and later for making my pattern variation and layout. The fabric swatches were scanned and then applied on the sketches. One of the reason[s] why I love using [my] computer is [that] I don't have to waste too much paper in the design process. Everything is done with the computer and I only print them out when they are done.




One of my blouse variation[s] was chosen for the book, and it was actually my favorite! The original blouse pattern has princess line[s] which [I wanted] to emphasize by using striped fabric [going] in different direction[s]. I also changed the overall shape to [become] tent-like by flaring the princess lines and the sides of the blouse. My first muslin was not flared enough, but I was quite satisfied with my second one.




My variation instruction[s] [were] pretty simple because basically I just eliminated the bottom part of the blouse, lengthen[ed] the top pieces and flared them. The sleeves were also changed into simple, rectangular sleeves. The only challenging part of my variation was on the pattern placement because of the different directions of the stripes.

I was pretty happy when the threads and fabrics for my blouse came, they were gorgeous! The colors were like strawberry and peanut jam. At the same time, I was a bit nervous. The fabric was silk shantung, something that I've never put my hands on before. I'm more of a cotton and linen person actually [because] they are comfortable and not intimidating. But there must be a first time for everything.




The final blouse was finished quite quickly and I must say that I'm happy with the result. You can see my happy face with the blouse and my two muslins! I'm thinking of making the blouse again with checked fabric like madras, which would be perfect for summer. To balance the tent shape, I would wear it with skinny pants or shorts.