ShareThis
We just can't get enough of our talented variation designers from The BurdaStyle Sewing Handbook! This week get the scoop from Karin Arver (aka: ichigogirl) and the process behind the creation of her gorgeous jacket project based on our Coat Pattern.
I'm in a sewing book, wow! I still can't really believe it. I think once you read this I've held the actual book in my hands and it's all real, but as I'm writing this it's still a bit abstract. In a good kind of way!
When I received the email from BurdaStyle saying they'd like to invite me to participate in The BurdaStyle Sewing Book I really couldn't believe it! Both because I couldn't believe I would get the chance to be in a project as exciting as that (I was really, really honored, and quite surprised), and then because the e-mail was sent to my secondary e-mail adress, that I only check once in a while!
I chose to sketch variations of the dress- and the coat-patterns, simply because they were the two patterns that appealed to me the most. I went crazy sketching, I think I must have made 40 different ones out of which I sent BurdaStyle three dresses and eight coats. I really enjoyed it, I've always liked to draw but I draw by hand much too rarely. The garment that was eventually chosen by BurdaStyle to be in the book is actually a variation of another one of the jacket sketches that I sent to them.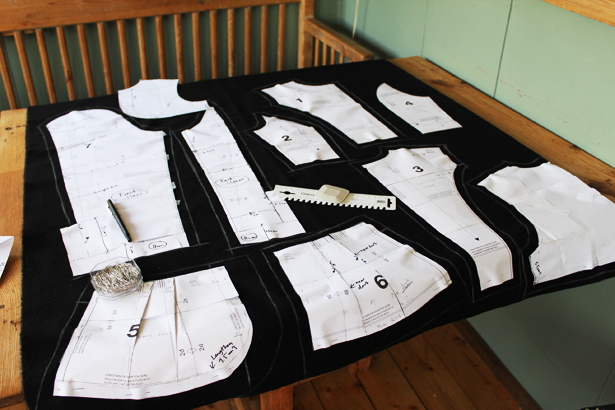 I think the most difficult about writing the instructions was that I had so very little time to do it. I only had a couple of short evenings and half a day to make the pattern and write the instructions since I had a trip to France coming up just a couple of days after I got the original pattern. What doesn't a girl do to get to visit the French Riviera? And to be in a book? She works hard.
I must give credit (and thanks!) to my friend Malin who was coming with me to France, and stayed at my place overnight before our flight, for keeping me alive during the last few hours of pattern manipulation and instruction-writing, I would have starved if she hadn't been there to serve me food and drinks. Like an angel.
When I got back from France I only had a couple of days to sew the jacket. Since those two days clashed with the week my family was to meet up in our summer house, I decided to take the project there. My mum was kind enough to bring her sewing machine, and everyone was kind enough to stay away from the dining table during the days I spent sewing.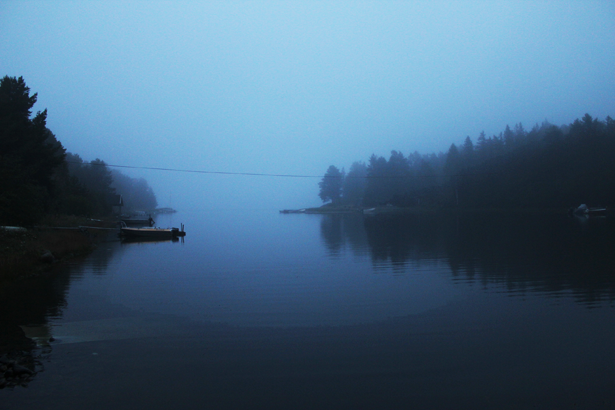 After a few days of hectic sewing (during which I had to change the size of the yoke and only just had enough fabric, quite a scare), in the most beautiful sewing room I can imagine (in a glass verandah, a few meters from the sea, overlooked by an ancient spruce forest). I was finally done at 3 am in the morning. The next day I had to go to the city (town rather) and hand my jacket over to FedEx for it to be shipped across the ocean. I did have the time to photograph it on a hanger, on a branch in a tree by the water, but not on me jumping around on the soft boulders by the sea on the other side of the forest as I had originally intended to. Oh well, I must compromise once in a while.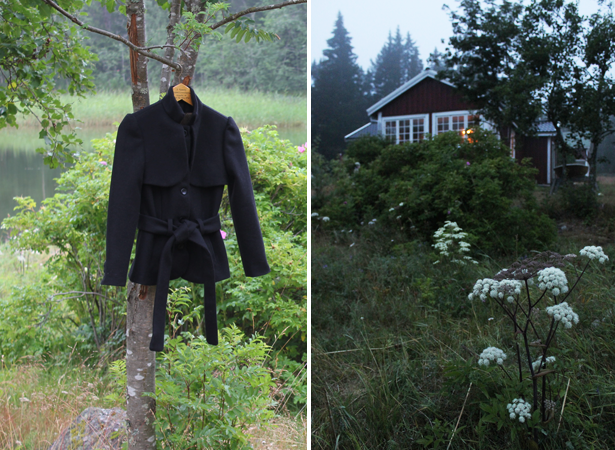 Before I saw the preview of the book, I had high expectations for the it but I had no idea what to expect. I must say that even with high expectations I was positively surprised when I got to read the preview, I really love the graphic design, layout and the pictures and I was stunned to see what everyone else had made. It's fabulous! I'm still very honored to be a part of it.