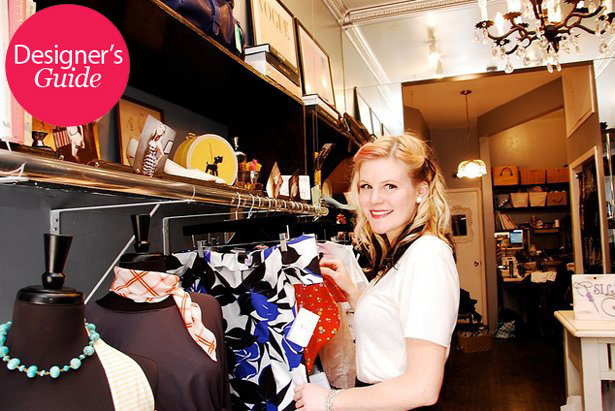 ShareThis
It's been about a month since BurdaStyle debuted the Fashion Designer's Guide, and I thought I'd start by asking what's changed and what steps have you been taking since we started? I know there is still a lot to go over, but I'm hoping even with the two posts under our belt you got the ball rolling or have some new thoughts about your business.
I also hope along the way you've still been sewing and designing. I mention this because our topic today is your business foundation and business plan. I cannot, and will not, downplay the important role of creating a solid business foundation – but I want to emphasize that the reality is that a lot of things are happening all at once and you shouldn't be sitting around waiting to dream up "the perfect company name" or hesitating because you don't have a business bank account set up, or whatever other reason you may come across. There is a point at which you will need all this, but you can (and must!) function in the meantime without them. It will happen, you will get there – just keep moving. I have unfortunately fallen victim to a lot of these and while you cannot escape every pitfall or have a perfect day every day, I'd like to help you avoid what you can.
When you feel ready to make the jump and take your business to the next level – take some time and do the research! You'll want to make the best decisions that you can now to save money and hassle down the road to ensure you and your business are legally protected and compliant with the government and the IRS.
Initial research on starting a business is a breeze in our internet day and age – you can find almost everything online. It's a great and easy way to start, but don't overlook the library. It's your best and cheapest resource for endless amounts of books, databases, and seminars. If your city or town is big enough, check and see if there is a Business Library branch and head there first. Not only will you find the largest amount of resources, but the staff if knowledgable and trained to help answer business related questions.
Once inside and browsing there are an infinite number to chose from – but where do you even start? I've found most basic business start-up and business plan writing books to be fairly similar (note: there are also countless "Start a (insert industry) Business" and I have yet to find a really great one – most spend 10% on the specific industry and 90% is everything you can find in normal start up books. If you need more information about a certain industry, this is not the way to go). I have discovered preferences for authors and styles, but only after paging through countless books. If you don't have the time and patience, jump over to Amazon for reviews and recommendations.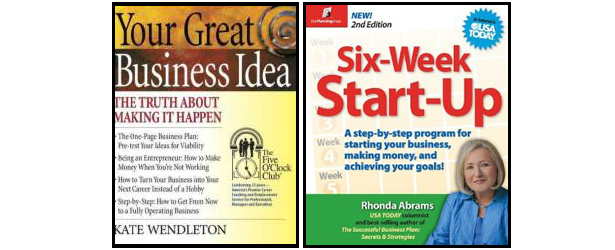 One of the first books I bought back in the day was Six Week Start-Up by Rhonda Abrams. I wouldn't necessarily recommend following the 6-week timeline, but its an easy to read book that highlights first steps in the right direction. If you're already part way into the process it's helpful as a checklist to make sure you haven't missed a step in the beginning phases. If you're not yet ready to talk to a lawyer or accountant and are looking to first hash out a few more details, I'd recommend the book Your Great Business Idea by Kate Wendleton.
Books and the Internet can tell you a lot, but don't forget to talk to a real live people that have lived it. I mentioned last time about different groups in which to network and find advice, but if you can find a mentor within the industry thats even better. In addition SCORE, the SBA, and countless other city and state run economic development programs (NYC specific links below) that offer FREE advice and counseling. How can you turn that down?!
Without writing a whole start-up book myself, I created a checklist for some of the most important aspects of creating your business foundation to help familiarize yourself and jump-start the process:
1) Decide on a name; research if it's available. Reserve the domain, Facebook page link, Twitter handle. Consider a name trademark down the road.
2) Expand you network of professionals. At a minimum this includes finding a lawyer and accountant. Depending on your individual skills (and available time!) it will expand and can include a web developer, graphic designer, and photographer just to name a few.
This step can be expensive, but there are ways to keep costs down. Reach out to your personal network and see of there are people willing to help you out (I've reached out for both web and graphic design help). Finding students in school can help (check out schools with specific programs for the best help – ICP is a good example if you're looking for photographers), and finally turn to the SBA and other small business centers for pro-bono legal advice. Reach out to small business owners you know and ask if they have recommendations.
3) Consider you legal form of business. In many books I see this step before deciding on your professional network, but I found it difficult to make the best choice without first consulting an accountant and lawyer – there are legal and tax differences and implications for what form you choose. Unless you're an expert, let the experts guide you – the initial money you spend will keep costs down in the long run.
Once your legal form is finalized you'll need a tax ID from the IRS (known as an EIN) and if you're planning on opening up shop and selling your own pieces you'll need a certificate authorizing you to collect sales tax (which is done by state). Once this is all in order you will end up with the proper documentation to open up a business bank account (note choose your bank wisely! If you need money down the road they may be your go to – ask about their small business loans and interest rates).

4) Not absolutely necessary but helpful is to write a business plan – the straightforward template offers a good guide and steps to take in establishing your business. Is it the most innovative process? No. But I do think it'll make you sit down and take some things about your business into consideration – like who is your target audience? Where are they located? What is the cost of renting space in your ideal location?
The most important thing you'll get out of writing your business plan is a realistic approach to your finances . It gets very real very quickly when projecting your sales and profits (and most likely at first some losses) over the next year, two, and five. And whether you like it or not, banks like do see these documents – so if you need funding, it is almost a must.
I could write pages and pages but before you get too deep, get your business set and financial house in order. You may find it tedious but like having imperfect pattern – the mistakes become obvious and exponential down the line without it. For a few great places to start, below is a list of links I've used (and still use!) – they are only a small handful of what's available!
Excellent Places To Start
Entrepreneur.com – the name says it all!
Wicked Start – an online template to help start your business
Business-in-a-Box – free business templates
Business of Fashion
OnStartups and Answers on Startups – a great blog and interactive Q&A site
Legal Zoom – basic online legal support and documents
NYC Business Solutions
New York City Economic Development Corp.
Small Business Administration
Small Business and Self-Employed Tax Center
BeOnline Business Reference Services – internet resources organized by the Library of Congress
Venture Hacks – a blog written by venture capitalists for start-ups
365 Days of Startups
What books, links and resources have you already found?
Disclosure: Everything mentioned above are my opinions and personal life stories; use the advice at your discretion – I encourage you to share yours and contribute what you know!
~Kristen
Kristen Elmer is an entrepreneur and sewing enthusiast currently focused on growing Silk and Cyanide — a womenswear clothing line with a modern take on vintage style. Follow her blog for her curated views of fashion, sewing and the inspiration behind Silk and Cyanide. She currently resides in Brooklyn by way of Chicago and New Orleans.