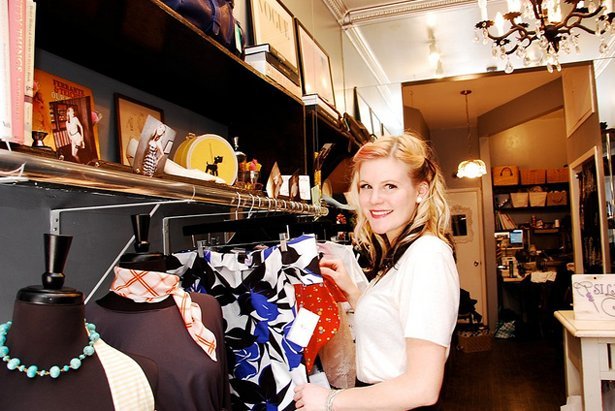 ShareThis
As members, you know BurdaStyle is the destination for modern sewing, patterns, tips, articles, discussions and a community of sewers around the world. We've sewed-along and discussed couture, but many of you have recently reached out about taking your sewing ideas to the next level and starting your own clothing line.
I've been a BurdaStyle member for a couple of years, and was recently profiled on BurdaStyle's blog for the pop-up shop for my line Silk and Cyanide this past April in New York City. Taking your requests into consideration, BurdaStyle reached out and asked me to write a series of articles about starting your own business through my story, experience and research.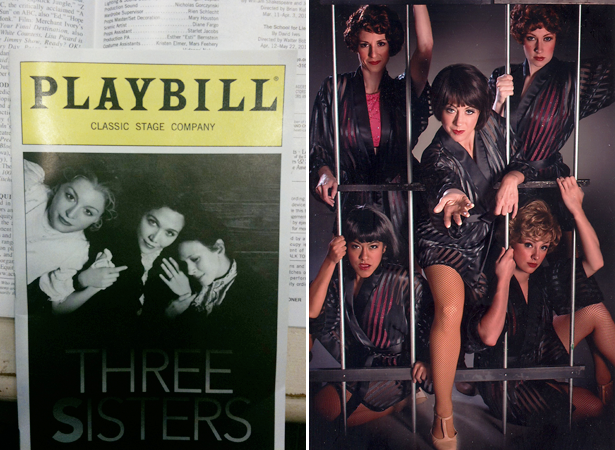 Left: the playbill for Three Sisters starring Maggie Gyllenhaal and Peter Sarsgaard. Costumes created for the musical Chicago.
Before jumping right into the how-to's, I thought I'd go into a little more depth about my history and experience in the fashion/retail industry and as a seamstress. I started sewing at the tender age of 5 or 6 with grandma on her vintage Singer Featherweight (if you follow Peter Lapin's frequent posts on vintage machines you know how spoiled you get sewing on them!). After receiving my first machine at 14, my sewing education, experimentations, and failures took off.
I kept up this routine of experimentation and technique learning with my Grandma through high school and managed to make a few Halloween costumes, prom dresses and organized two fashion shows my senior year of high school. But when it came to choosing a college, I was very torn – I loved fashion, designing and sewing and knew that I wanted it to be my career. I looked into fashion programs and different schools but ultimately followed my gut and chose to enroll at Tulane University and study finance. I knew I had a desire to increase my business background which had, as of yet, been unexplored. Tulane does not have a fashion program but after discussing my future goals with my career counselor, she suggested I work at the Theater Department's Costume Shop. It was one of the best pieces of advice I've ever followed. While there was no option for a costume design major, I'd say I put in enough time to get an honorary degree.
Besides Tulane Theater, I worked for different companies throughout the city, designed for myself and eventually I started working at a boutique assisting with bridal and womenswear alterations. With my degree under my belt, I was ready to move to the big city but needed a job. I landed one at Macys.com, in the Buying department and after some time, I had the opportunity to move over to Lord and Taylor and experience store buying as well.
Throughout my time in New York, I never gave up my dream of running my own company, and as that desire and my frustration with the corporate life grew, I knew something had to give. With a good idea, some cash in the bank and the hopes of make it on my own, I walked out the door in June of 2010 and have not looked back!
I took a break, but not for long, and soon was back into the swing of things working as a freelance seamstress on a variety of projects – from sewing on labels to custom-made pieces. They were hit or miss, and the hardest thing I realized is what the public is willing to pay for custom sewing – not much – and while I'll address the differences between home and industrial sewing in future pieces – suffice it to say that the fast (and cheap) fashion of H&M, Forever 21 and the like, along with a huge decrease in the number of sewers and sewing ability from our grandmothers generation has warped society's perception of how much work goes into sewing custom made projects. But, for as many odd jobs and people I encountered I was lucky enough to land great ones as well (including my first Playbook recognition!) – and the most important was a sales and alterations position at True Boutique, a jeans destination focused on personalized fit and style.
Unfortunately with the economy, True Boutique ran its course and shuttered its doors this past March. The closing of the boutique and gap in tenants gave me the opportunity to open my pop-up shop for Silk and Cyanide this past April – which was truly a dream come true. In addition to the BurdaStyle article, I received a great reaction from customers and other retail outlets looking to feature my pieces. After the pop-up month ended I've taken a step back to write my business plan and streamline my production. My latest major event was October 2nd at the Atlantic Antic in Brooklyn – a mile long stretch of Atlantic Ave. closed off for the day to feature over 500 booths of shops.
Your Story
Now that you know my background and I hope can trust my advice and thought process – let's turn to you. What is your dream? And how are you making it a reality? For many people (myself included for many years), knowing exactly what kind of company you want to start is not very defined beyond "a womenswear designer." And that's okay – you shouldn't decide in a day anyway! This is something you will be putting a lot of your life, energy, and money into – you need time to hash out the details. I've found the best way to discover your niche, design philosophy, and company values is through a variety of work experiences – whether it be a design internship, costume assistant, or just trying your hand out at a few designs and selling them on Etsy or at local fairs. Give yourself some flexibility to try new designs and ditch them if you don't like them – if you pick a style or niche you don't have to stick with it forever! Don't stress if your jobs or bosses haven't been the best – both the bad and the good will help you develop an idea of what you want (or don't want!) to do.
If you think you're too old or haven't started or enough enough yet, you may be surprised to learn you're already on the way, even if you feel like you don't have too much to show from it. And it's never too late! I'm going to go out on a limb here and assume most of you are sewers (and I didn't say experts!). My first piece of advice to anyone out there just learning is just sew. Try to copy pieces you already own, try patterns, read your manual and try all the settings on your sewing machine. Embrace your failures. I feel fortunate that I learned at a young age that I didn't let my mistakes stop me, I just tried again. When you screw up once, there's a good chance you won't do it a second time (I doubt I'm the only one that has forgotten to include seam allowances!). If you want to make custom pieces, have a couture house or make everything yourself (to sell on Etsy for example) – you may need to amp up those skills. But if your plan is more tailored to small production or hiring other sewers, you don't have to be an expert to be successful. I absolutely encourage designers to know how to sew and to understand it – it only helps you down the road if you know how different fabrics feel, drape, and sew. First hand sewing experiences (and mistakes) are the easiest way to learn. If you're not an expert, then hire or surround yourself with people that are.
If you want to take those skills to the next level, look for a job that relies heavily on you sewing. I've sewn in many capacities and one of the best ways to learn is from someone that's been sewing professionally for a long time. Find them and befriend them – they will teach you more than you ever expected to learn. Many readers outside of New York may find themselves in a city that they don't consider a fashion destination. Most major cities may not have tons of fashion outlets, but many have theater companies. If you ever have a chance to sew for theater, I would recommend giving it a try. It will test both your creative and technical skills, and I found that I got a great grasp on fashion history because theater is not era or time restricted as fashion has a tendency to be. And if you think preparing for a runway show for fashion week is intense, try opening night!
If you don't want to sew – find a design related job! There are always openings in fashion; everyone always needs help (myself included). Don't limit yourself to just sewing or design – design companies are businesses too and need employees from a variety of backgrounds including business, legal, merchandising. Find a small company if you can; you'll probably get your hands in more areas and have a more well-rounded experience. Large companies aren't off limits – but you don't become a large company over night – see how the smaller companies do it. If you're in a major city, check out Fashionista – they've recently added a job section. Craigslist can be hit or miss, but it's another option. And depending on where you're located just walk into stores of small designers you like and just ask. That's what I did in New Orleans and got the job on the spot. Sometimes it takes time – don't be discouraged and don't take it personally. One job rejection doesn't mean you're not good enough – you have no idea why they didn't hire you and there's a good chance it isn't you.
Take the time to learn from other people that have the experience and the money. I may have not always loved all my jobs, especially my corporate gigs, but I wouldn't trade them for the world. Recognize that there are so many opportunities out there, but it's up to you to find them and take from it what you can. People will help you; but you also have to help yourself. Most of all, keep trying and learning.
For Next Time…
This post is only the first in a series to help guide BurdaStyle readers through the wide world of starting a clothing manufacturing business. I plan on sharing my personal stories and experiences to help illustrate points and give real life examples, but this is not intended to just be a journal of my story. This is an interactive guide and discussion to help other dreamers out there take the next step, get some more specific information and think more broadly. My hope is to create a dialogue between everyone interested where we can share tips and pointers and help each other. I don't profess to know all the answers but will share what I know and answer any question to the fullest.
To those of you who have reached out to BurdaStyle looking for help and guidance – or those of you whose curiosity is now piqued – what are you looking for? What information do you want, and what do you want to discuss? What future articles are you looking to see? Please feel free to email me at kristen@silkandcyanide.com or leave a comment below. I'm excited for this journey and hope you are too!
Disclosure: Everything mentioned above are my opinions and personal life stories; use the advice at your discretion – I encourage you to share yours and contribute what you know!
~Kristen
Kristen Elmer is an entrepreneur and sewing enthusiast currently focused on growing Silk and Cyanide — a womenswear clothing line with a modern take on vintage style. Follow her blog for her curated views of fashion, sewing and the inspiration behind Silk and Cyanide. She currently resides in Brooklyn by way of Chicago and New Orleans.