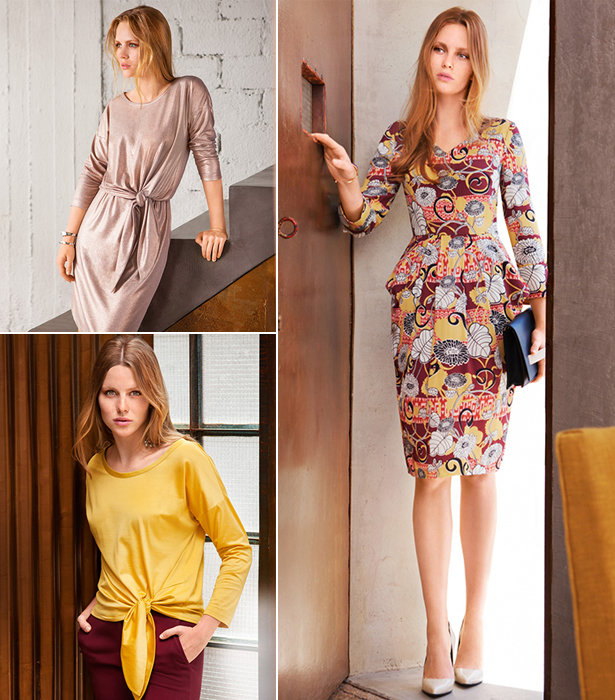 ShareThis
Mysterious burgundy red, peppy yellow, and delicate pink join forces in this collection from the October 2016 issue of BurdaStyle to make clean styles with impressive details the stars of the art scene.
Click on the pattern image to go to the pattern store page…
Lovely shoulders, flattering neckline, slender waist – this wrapped blouse with its extra long tie bands will do more good than any workout.
Contrasting wool braid is caught in the raglan seams of this pullover where it draws attention to the oval neckline which drapes flatteringly around the neck and shoulders.
A masculine cut and feminine, light pink wool fabric. These cropped trousers with their pressed creases, wide cuffs, and belt loops combine the best of both worlds.
Self-assured fashionistas are now wearing culottes of wild print fabrics. Skorts are cooler than a skirt and offer more freedom of movement. The overskirt panel is simply stitched to the finished culottes.
Sewing can be meditation. The wide waist band on this long sleeve dress is embroidered by hand – an extra touch which takes this bright silk dress with keyhole neckline and inverted pleat into the realm of couture chic.
This fitted dress of luxurious wool fabric is perfectly adapted to the proportions of smaller women. Radiating inserts in a contrasting color cleverly draw attention to the waist.
We love this dress! Should we tell you why? The sophisticated wing pockets and soft pleats of the skirt provide an exciting contrast to the plain fitted bodice – and create a fine figure.
From a distance, the pockets of this dress look like a peplum and have a similar effect making it a wonderfully curvy, seductive silhouette! The bodice, with front and back V-neckline, remains quietly unadorned.
What is better than a knotted blouse? A knotted T-shirt! The ties on this shirt with its slightly shortened sleeves are cut on and faced and can be tied tighter or looser, depending on your mood.
Glamour can be comfortable! The metallic jersey of this dress plays excitingly with shadow and light. The knot and elastic at the waist give it a flattering form.
Download all the patterns here in the discounted bundle!
Happy Sewing!