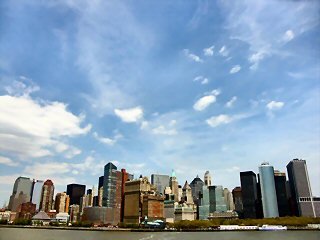 ShareThis
My iPod died the other day. I was heading up Sixth Avenue, fresh off the subway, on the coldest morning in New York in years. And as usual, when I venture into midtown from my Lower East Side digs, I was up there for a reason I've been a New Yorker long enough now, and a downtowner at that, that I no longer ascend past 23rd Street without some concrete motivation, like a business meeting or a sale on towels at Macy's. About a minute before my iPod died, however, I had paused, freezing, to marvel at the tents going up in Bryant Park.
The raising of the tents is constantly amazing to me, because as soon as I see them I know that Fashion Week is around the corner, and it always seems to me that Fashion Week just ended. Time moves fast in New York City. Wasn't it just yesterday, I was thinking as I shivered before the Bryant Park gates, that the Marc Jacobs after-party inaugurated the Gramercy Park Hotel bar as the city's official hotspot? Now it's the Waverly Inn, or the Beatrice Inn, or maybe, by the time you read this, someplace else. Wasn't it just yesterday that editors were staggering around on their vertiginous Balenciagas? And that Mischa Barton was defying the laws of physics, seriously everywhere, wearing different clothes? This season, I imagine, the prize Balenciaga will be the robot pants, and I will be as curious to see how the dedicated pull those off as I was impressed, in September, to see them walking (barely) in mile-high platforms. And I'm guessing Sienna Miller will be the celeb cloning herself for the shows this timeshe's in town as I write, making the club rounds with Diddy, which probably means she'll be at Zac Posen's show, and everyone will be chattering about how tiny she is in person almost Olsen twin tinyas they stare down the front row to see who's managed to lay hands on the flats from Zac's new shoe collection.
All of which is to say that, for me, the best part of Fashion Week, and the thing I remember fondly once all the clothes have blurred into a few mental notes on trends, is people-watching. And watching people people-watch. It's at the parties, and in the lines to check into the shows, and during the inevitable half-hour wait for the lights to dim, that fashion travels through the echo chamber of the fashionable to become style. The dicta you see in fashion magazines, months later, are written a hundred yards from the runway in the chit-chat among people trying to hail a cab. "I'm calling in that dress" "Which one?" "The third-to-last, the Vionnet-looking" "Try and get it. Anna actually nodded." "Sofia looked amazing…" "Was that vintage?" 'I think it was Alaia" "TAXI!"
But I was talking about my iPod. The great, the amazing thing about wearing your iPod around town, a town like this where you spend your days passing through construction sites and cab horns and one-sided cellphone conversationsis that the music allows you your mental privacy. As much as the headphones filter in the soundtrack of your life, they filter out the flotsam jetsam of fast-moving New York City. And most of the time, I treasure that autonomy, treasure it literally and metaphorically. The city will bear down on you, tugging you toward this look, that bar, whatever's new, newer, newest. But you may stand aside, and with a polite nod to the crowd, play your own mix.
Standing there before the half-strung tents, however, I was glad for a moment that my iPod balked. Sixth Avenue reasserted itself the guy at the falafel stand yelling his order, the bike messenger zig-zagging across lanes of traffic, the woman striding toward her office, sipping soup and flipping through the latest issue of US Weekly as she walked. It struck me then that autonomy is well and good, but everyone once in a while, and especially when Fashion Week rolls around, it's also good to let the city in, and watch, and listen.
In honor of New York Fashion Week, BurdaStyle is celebrating all things Big Apple.