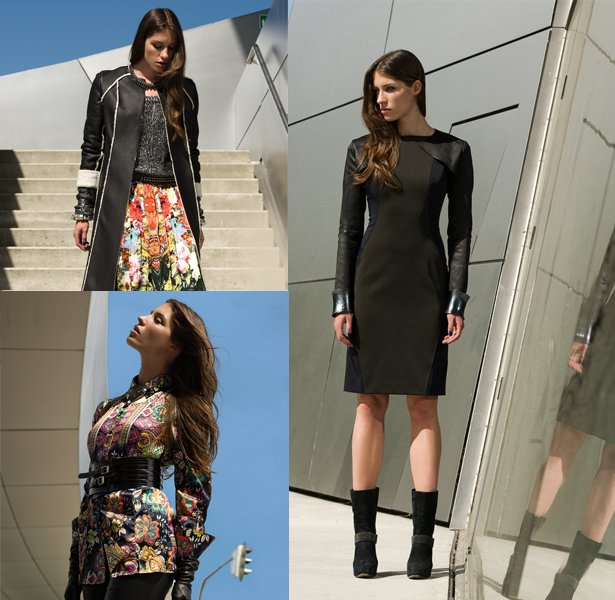 ShareThis
This futuristic new collection is from the September issue of burda style magazine. It mixes vibrant colored prints with deep blacks and leather, to create a style that is out of this world.

This Printed Blouse is so flamboyant and full of color. It has many features of a classic blouse with the addition of pretty gathers and double wide cuffs. Everyone needs a stylish blouse in their wardrobe, and this one is a great match. Sew in either a solid or printed silk, or even both!

This ultra sleek look is one of our favorites. The Scuba Dress has a cool futuristic style and a figure flattering silhouette. The curvy seam lines in the dress really stand out when sewn in contrasting fabrics. Worn over the dress is the short Leather Bolero that will make any outfit look edgy and cool.

Here is the stunning V-Neckline Dress that has long narrow sleeves and looks great made in a beautifully printed satin. This eye-catching dress has a deep V-neckline with bands that really stand out when made in a contrasting color or fabric.

This outfit is very chic and stylish, we love the 3/4 Sleeve Top paired with the Front Pleated Skirt . The top has a lovely shaped silhouette created by the curved bust darts, and another great detail is the hem and neck band that finishes off the top neatly. The skirt has a pleated front, and a simple back design to create an interesting style and mix of textures.

Here we have the Faux Fur Coat that has minimal details but big impact. It has no collar, trim, or lining so the faux fur can be the main focus of this cozy coat. It does feature some intricate seaming that really gives this coat both structure and style.

We love this trendy outfit, and it works great for daytime. The Leather Pants are form-fitting and sure to be the wow factor in your outfit. To fit to the body, these pants have front and back darts and a side seam zipper closure. They are paired with the Shirred Shirt that is long and fits the body beautifully with the great shirred side seam detail.
This collection is sleek and chic, and sure to vamp up your wardrobe this coming fall. We love all the futuristic designs and styles, and the rich techno-fabrics they are made in.
Happy Sewing!