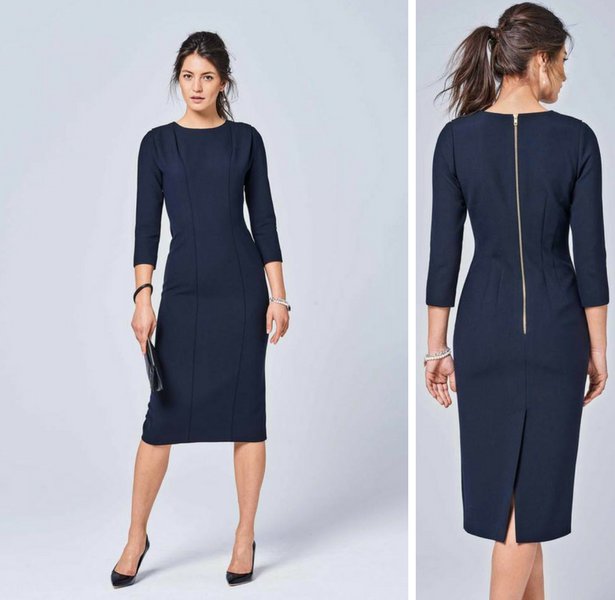 ShareThis
In September 1957, fashionistas fell in love with this dress. Exactly 60 years later, we're fanning the flames anew and remastered this dress style for download…

The figure-hugging lengthwise seams and the couture pleats at the shoulders are the same – updated with a stretch crêpe fabric, it sits more easily along the body. New: A modern, exposed metal zipper closure in back. Download it here to make!



Styles need "not be sensational in a surprising manner, and rather represent a culmination of re-fi ned details of the most modern fashion to follow the natural, feminine body." With these admittedly bold words, "burda moden" introduced the compelling trend of the winter season of 1957/58. It continues that fashion does not need to be restrictive as it is more often now the trend to follow the curves of a woman's body in an advantageous manner, while allowing for "unrestricted freedom to move.
The key to the style is that the waistline remains drawn in for a sexy shape. This sand coloured dress is a most striking example. Length-wise seams end beautifully into pleats at the shoulder. The style is best when worn with a modest cropped jacket with 7/8 sleeves – the complete look is stunning. Accessories were kept in the same palette of the stylish beige-brown: gloves, hair scarf in the posh "bathing cap" style and a coordinating hand bag with the matt-gloss effect. Très chic!

We love when vintage and retro pattern are brought back from the past and these are some of our past favorites including the Retro Top, Retro Wool Dress, and Retro Short Coat.