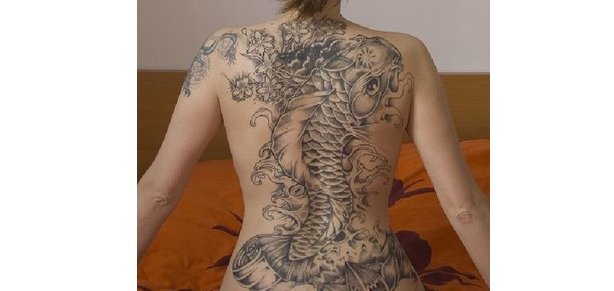 ShareThis
BurdaStyle readers, a question: How do you feel about tattoos?
I'm on the fence about them, especially as their popularity has grown and almost everybody seems to have one. Tattoos can certainly be stunning works of art, as above. And they can make a powerful statement — every day and for the rest of your life. I'm not sure there's any statement I'm THAT committed to making, but that's me.

image via
When I was growing up in the Sixties and Seventies, the only people I ever saw with tattoos were older men who'd been in the navy, who usually had an anchor tattooed on their forearm (Think, Popeye the Sailor). I never saw a woman with one, or a young person.
Today you can get a tattoo, on a whim, at the mall — it's like piercing your ears.
Once upon a time, if you were a fan of say, singer Patsy Cline, you might wear a Patsy Cline t-shirt….Today, you can wear Patsy permanently on your bicep.
When did words (or t-shirts) fail to express our enthusiasm — or am I missing the point?
I love Shirley Temple as much as the next person, but I doubt I'd tattoo her on my calf. And as far as the cast of Star Wars, fuggitaboutit!
Here are just a few of the obstacles I don't seem to be able to overcome with regard to tattoos:
1) They're extremely painful to get (or so I've heard), often requiring pre-tattooing inebriation.
2) They are permanent — if your taste/lifestyle changes, you're out of luck (unless you want to undergo expensive laser treatments).
3) You see them everywhere, which seems to diminish their cachet (not that cachet is the reason most people get tattoos).
4) They inevitably turn dark green with age.
In closing, readers – do you consider tattoos fashion, art, rebellion, or a bit of all three?
Jump in!
~Peter
When native New Yorker Peter Lappin bought his first sewing machine two years ago to hem a pair of thrift store jeans, little did he know he was initiating a journey that would bring him fame and fortune. While awaiting his fortune he stays busy writing "the world's most popular men's sewing blog," Male Pattern Boldness, and now contributing to BurdaStyle.
"For more than twenty years I'd lived on the edge of the Garment District without even knowing what a seam ripper was. Now I rip daily!"