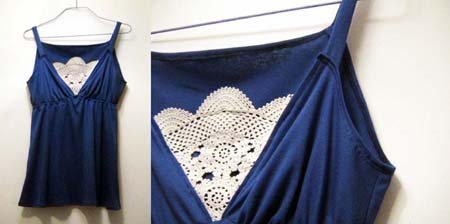 ShareThis
After reading all your comments of which there were many coming from various forums I decided to keep things simple for my first alteration. Instead of the flutter sleeves I added wide spaghetti straps with the intention of wearing a long sleeved top underneath. This way I'm not only going to wear it now during the winter but I will also be able to use it as a summer top. As for the neckline, I kept it as it is in the pattern but added a thrifted crochet doily between the bust pieces to help 'cover up the girls' a little more.
I used a jersey knit fabric found on a thrift store adventure a while back, it's warm and I like the way it drapes and feels but I'm not too experienced in sewing this type of fabric, in fact I have only made a few other garments from jersey. I'm learning along the way and yes, there has been a lot of seam ripping and some not so ladylike words muttered throughout the process. I find it hard to keep my stitching straight due to the fabric being so soft and wanting to move around under the sewing needle. I plan on teaching myself more about sewing with knit fabrics and will post some how-to'salong the way. Check out Nayantara's with recent how-to for adding a rib knit band to t-shirts. You know what they say….practice makes perfect! If you have any tips for me I'd be happy to hear them. Check out the How To to try this out yourself.
My next alteration challenge is Celestina. I LOVE the dress as it is but as this is an alteration challenge I should change something somehow, maybe the sleeves? Whatever I change, if I'm going to be wearing this dress I'm definitely going to have to alter the waistline as mine is growing considerably fast! Nope, I'm not eating too much cake, I'm pregnant!!!! Benedikta, I think I'm going to need the help of your wonderful pattern alteration skills otherwise everything I make from now on will be made in stretchy fabrics. At least I'll become a pro at sewing knits!
Leave me a comment with your pattern alteration ideas by Wednesday and I'll show you next week what I came up with.