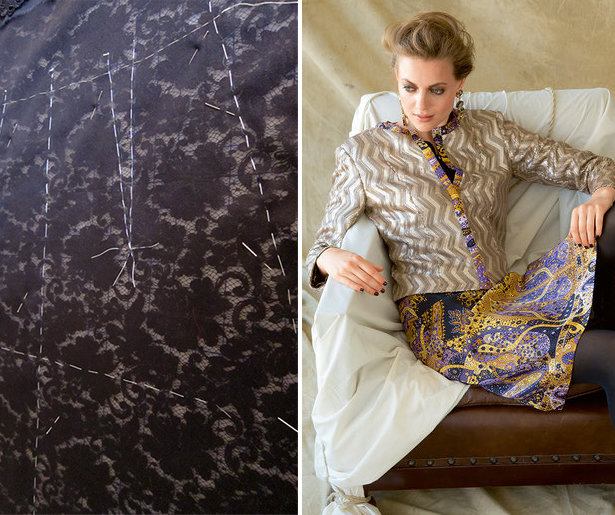 ShareThis
It's been a long time since I last posted here. I really missed it, but a big move across Atlantic made it difficult to blog, let alone sewing. But it was the move that made me reexamine my wardrobe, with a revelation that something as simple as a skirt is probably the most worn and a most versatile garment in my wardrobe.
So, skirts shall I make, using challenging but gratifying epic couture techniques. Yes, skirts are not only versatile styling objects, but also an easier couture project to tackle. Seriously, I miss an easy access to couture classes here. It was nice to be in a couture class in New York, or Baltimore – it took me about a week or less of full time sewing to finish a relatively complex couture project. However, at home, for a mom of two rather young, active and demanding girls, creating, say, a ten-piece wardrobe can become a life-long quest. This made me a skirt convert: easy to dress up or down.
For the first project I chose an airy A-line skirt. The simplicity of style is counter-balanced by the use of a pretty black Alençon lace. A pattern that works best for this project is an A-Line skirt #126 from December 2013 issue of Burdastyle magazine.
As with most couture garments, making a toile, or a test garment, is a must. You don't want to compromise a hundred euro lace to save an extra hour of work.
MATERIALS
The lace I chose for the skirt is sturdy enough to make the skirt withstand wear and tear, and many Alençons can be cut and pieced together – a big advantage if you want to preserve the beauty and the pattern of it. However, after testing a sample, it was clear to me that this lace will need some backing, or underlining: the net that holds the lace together is simply too large-scaled to provide good support at seams.
I chose silk organza underlining. Although delicate and transparent, organza is surprisingly sturdy and is one of the most popular underlining options. I wanted to use its transparency to play with several layers of sheer fabrics under the lace. I didn't want a strong contrast between lace and the lining, or an overwhelmingly black look. So I chose to go for a two-layer chiffon lining, with one layer in tan, and the other in black. Black chiffon tamed the tan color on the first layer, and black organza underlining reduced the contrast even more, with just a hint of skin color underneath.
MARKING
I laid my pattern pieces under the lace for transferring markings and thread-tracing. Doing it this way helps see the motifs on the lace and position them to your liking. Once I was happy with pattern placement, I marked darts, side seams and waistline following the seamlines of the pattern.

Lace and organza, basted together at side seams, and along grainlines.
I also wanted to use the scallops at the hem, so I aligned the pattern with the scallop edge. However, since only about one-third of my A-line skirt hem was curved, I decided not to cut into the entire scallop length, but only the portion that would need to be shaped for the hem. At this stage, however, I only marked the point to which the scallops will need to be cut to, to avoid any damage or distortion before I get to this task. I also thread-traced around scallop motifs as an additional visual help with black lace.

Left: Muslin was placed over the lace to mark the point, to which scallop hem was to be cut. Right: Side seams and the 'end-of-cutting' point at the hem, marked in turquoise silk thread.
UNDERLINING
Once my lace was marked, I removed pattern pieces, and laid the lace on the table wrong side up. I aligned it with table edges to help with graining. Then I put a layer of silk organza over the lace, aligned and grained it as well, pinning the edges of the lace and organza together. Finally, I pinned organza to the lace following thread-traced lines on the lace.

Lace and organza, basted together at side seams, and along grainlines.
Now, I needed to baste through both layers following the thread-traced lines, and omitting waistline, darts and curved portions of the hem. There, I thread-traced only the organza layer, keeping the stitches rather short (especially on darts), larger stitches tend to get loose on slippery organza.
I didn't baste together the waistline layers, because darts on organza layer were stitched and then appliquéd on lace, through the organza layer. This allowed for additional support for appliquéd seams in the area below the waist, which is under a lot of stress.

Waistline and darts were thread-traced separately on each layer.
CUTTING
I cut the waistline with approximately ¾" seam allowance, which I trimmed to ½" later, after machine-stitching the waistband.
Side seams were cut with 1" seam allowance. I decided not to appliqué them because these seams are under a lot of stress and needed more support. In addition, the lace motifs are so dense that appliqué would not be very visible anyway. The scallop portion at the hem, however, was appliquéd, so I cut just down to scallops, leaving one extra scallop on each side as a safety measure, before I made a decision where to overlap.

Scallops cut and ready for hem shaping after side seams were stitched.
This is it for the Part 1. I hope you found this post interesting. Did you learn anything new? I'd love to hear your comments and questions. As for the following part, I will cover some lace construction steps, as well as details of the two-layer chiffon lining. Stay tuned.
Marina von Koenig started her couture adventure five years ago. She blogs about her work at Frabjous Couture. Currently, she runs a straight-skirt sew-along, which focuses on custom fit through accurate measurements and innovative pattern drafting.