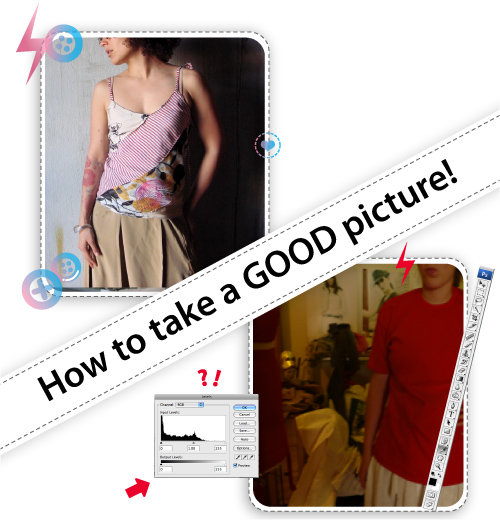 ShareThis
So, some people have been wondering how we go about picking images for the home page. Basically, everyday we look through the creations page at the new uploads. What we are looking for is quality, both in the creation and in the photo.
We have some helpful hints for how to take better pictures.
- Have a nice background. Stand in front of a wall or be in your garden. Make sure when you take your picture that your dirty laundry is not strewn about the floor and you aren't in front of a messy bookshelves. Clutter only distracts from the beauty of your creation!
- Make sure there is lighting. Don't take a picture in the bat cave.
- Make sure you are well lit. You should be facing the light source when taking your pictures, not back lit. This allows everyone to see the creation much more clearly.
- Show your lovely face. We understand that people sometimes feel a little uncomfortable with this but it is so much easier to see the proportions of the outfit plus we want to see how happy you are with your new creation.
- Make sure the picture is clear. It's so nice to be able to see the details and really admire the work you put into this. A fuzzy picture makes us sad.
If you want to get really fancy and edit your photos with Photoshop, use these tricks (not necessary though)
- To adjust the darkness go to Image>Adjustments>Level
- To increase the vividness go to Image >Adjustments>Hue/Saturation
- To adjust final Brightness go to Image>Adjustments>Brightness/Contrast
There are our quick tricks for taking great pictures. We look forward to seeing what you do with this!