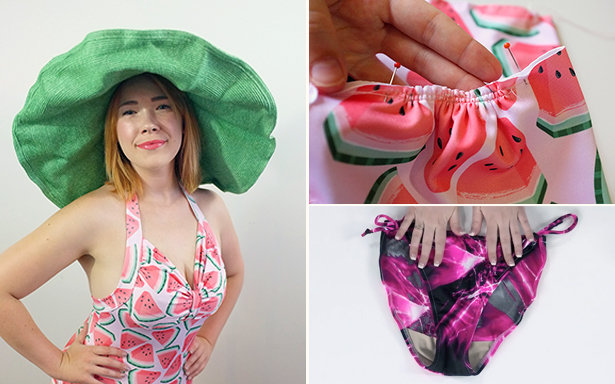 ShareThis
I know summer has ended, but that doesn't mean that making swimsuits has to! I always still wear my swimsuits through the fall and winter (I love lounging in a hot tub on a cold winter night). So of course I still make my own swimsuits through all the different seasons. Read on to check out my one-piece Alison suit sew along, as well as a video on putting together bikini bottoms!
At the start of every season I make bottoms that are a neutral color like black, white, or lime green (that is a neutral for me haha) because they tend to wear out more than tops. Watch below to see how our Jessica bikini bottoms are made.
I always use 3/8" elastic and a spandex blend of 80% nylon and 20% spandex.
Want more help putting these together and how to assemble the top? You can join the Sew Along here and the pattern is included! For National Sewing Month we put all of our sew alongs on sale. Use code LOVE2SEW50 for 50% off. Start now here.
I also worked with Spoonflower this month to put together a Sew Along using our Alison swimsuit and their sport lycra fabric!
Click on the image to view each part of the sew along!
Part 1 is all about introducing the pattern and getting it ready and cut out. See it here.
Part 2 is when we dive into elasticating the leg holes and gathering the bust piece. See it here.
Part 3 is where we put it all together and attach the straps. See more images of my finished watermelon swim suit here!
Download your own Alison swimsuit pattern here.
Happy Sewing!