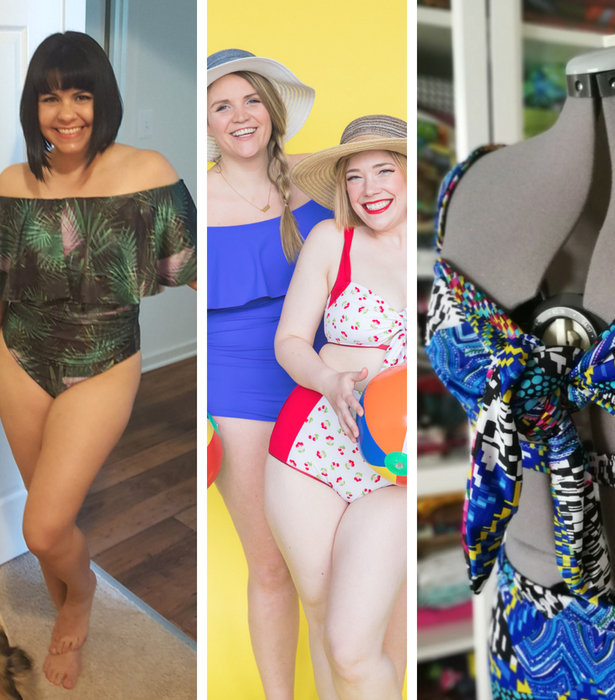 ShareThis
Our latest FREE sew-along Swimwear Shape-Up launched just last week and we already have seen some super cute swimwear projects from it! You still have three weeks to register for free and also get a chance to win a brand new PFAFF® passport™ 3.0 sewing machine and 20 spools of Coats Eloflex thread – which I'm obsessed with and also used for my Mash Up. Read on to see our member's swimsuits so far as well as some bloopers from when I filmed the sew-along…
This sew-along brings me so much joy to see everyone in the course post and talk about their swimsuits. It has only been about a week since it went live and there are already some amazing projects – just goes to show how quick and easy these suits are to make. So if you even have a beach date this weekend, you have time to make a suit for it! Register here. Creating, filming, and instructing these sew-alongs is by far the best part of my job. I just love how we are able to offer these for free to give everyone a chance to try a new pattern, learn a new technique, and get feedback from our community. The supportive environment in these sew-along is truly amazing.

Verónica has tackled every single sew-along and for her swimsuit she made the off-the-shoulder one piece variation in this very cool tropical printed lycra. She did such an amazing job on her suit and it only took her 2 hours to do the drafting, cutting, and sewing. Looking fabulous Verónica!



Utamika tried her hand at the two piece and even graded up the pattern size 42 to a DD cup size (I cover that in the beginning) – well done! Her abstract fabric is super cute and a commenter in the course said she loved how it brought this vintage style top to a modern level, and I agree.
I can't wait to see more projects! So go ahead and register here and make sure to post in the gallery section of the sew-along.



And I'm still in love with the suits I made as samples for the sew-along, and my friend Melody in blue loves her one-piece and even recently took it on vacation! I know I have mine packed for my first beach day of the summer along with some serious 60+ SPF sunscreen, haha. Although I'm not much of a beach girl, this retro suit makes me want to go to show it off.



As I mentioned before, doing these sew-along is my favorite part of the job – and filming them is so much fun. The editor put together these bloopers and I just had to share. Enjoy :)



Even you have never made a swimsuit before, don't have a serger, this sew-along will be perfect for you. Register before July 4th to get in for free (you'll also get forever access) and a chance to win! Click the image below to sign up:



Happy Sewing!