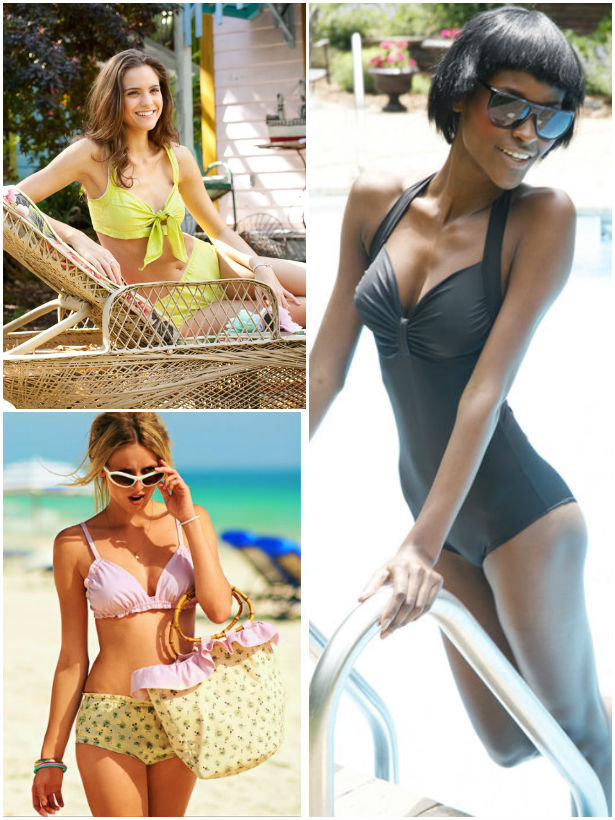 ShareThis
Swimsuit season is upon us, and the pressure is on to find the perfect beach attire. Whether you're taking off on a well deserved vacation, or are lucky enough to live somewhere warm, you need a swimsuit you can feel comfortable and confident in. Follow this helpful guide to find a bathing suit that flatters your figure.
The key to looking and feeling great in your bathing suit is to find a style that accentuates and shows off all of your best features… not cover up the ones you aren't so fond of. Once you start having fun in the water you won't even remember what you're wearing!
If you've got an athletic build with broad shoulders and narrow hips; look for feminine swimwear pieces that will soften your shape and draw the eye upwards. Tops with gathers, padding or ruffles along the bust will lend curves and volume to an athletic frame. Halter straps balance out strong shoulders, while accentuating the collarbone. Flaunt a toned lower half in swimsuit bottoms with eye catching embellishments or girly ruffles. If you want to wear a one-piece suit or tankini, look for styles with contoured panel seams, curved cutouts, or strategically placed prints that will draw the eye inward at the waist. High waisted bottoms paired with a bra top creates an instant waist as well. Avoid strapless styles and bandeaus as they tend to emphasize a wide upper body.
If you have a pear shaped figure, go for a style that will showcase your small waist and killer curves. Draw eyes upwards with fun, bold detailing above the waist. Try a plunging neckline, sparkling embellishments, fringe or ruffles. And don't forget about fabric- pair a vibrant printed top with dark, neutral bottoms for a slimming effect. A small all-over print keeps the eyes moving, skimming over any worry-zones; an especially good choice for a one piece. Skirted bottoms are often a popular pick for those trying to camouflage the hips and backside, but the wrong type of skirt will do anything but flatter your figure. Short, gathered ruffle hems may be cute, but they can add bulk and visually widen the hips. Opt for a sleek, flowing skirt instead.
For those with an apple shaped silhouette, flatter a round tummy with a pretty one piece or tankini with ruching across the middle, or with a sophisticated wrap-style in a dark, slimming color. Asymmetrical gathers and vertical seams or panels are another great way cinch in your middle. Try a halter top with thick straps and a deep V-neckline to make shoulders appear narrow and highlight the chest. If a two piece is more your style, draw attention towards your lower half with bold printed bottoms and a neutral top. Bottoms with ties or bows at the hips help balance out your figure as well.
If you have a large bust, you need a top with both support and lift to flatter your shape. Choose a top with wide straps, built-in bras and underwire support. An ever-flattering halter will keep everything in place while showing off impressive cleavage. Stick with dark colors in a solid shade or all over pattern. Avoid bandeaus and spaghetti straps. If you're small-chested, bandeaus were made for you! A ruched sweetheart style bandeau is an ultra-flattering choice. Add volume to your bustline with ruffles and gathers, or even go up a cup size or two with a padded push-up bra top. Opt for light colors and patterns to avoid a slimming effect along the bust.
If you're petite, be careful not to overwhelm your small frame with thick bands and heavy embellishments. Highlight your figure with close-fitting pieces and narrow straps. Tie-up bottoms and halters are a great choice. Two piece swimsuits are the best bet for elongating your figure, but if you'd prefer a one piece, incorporate vertical lines or a deep plunging neckline. High cut bottoms lengthen the legs and make you appear taller. Keep colors light and vibrant.
Head over to the pattern store and check out the BurdaStyle swimwear!
Of course, savvy sewers such as yourselves don't have to be limited to swimwear patterns. If there's a fitted top that works wonders for your figure, why not wear it at the beach as well? Depending on the make and fit of the garment, you'll likely have to make adjustments to accommodate for stretchy swimsuit fabrics. If so, we've got two great videos you need to see! Learn how to transform a woven pattern into a knitwear pattern here, and learn how to modify a knit pattern specifically for swim and athletic wear here here.
Here are a few tops that would look gorgeous poolside:
You can even combine longer tops with bikini bottoms at the pattern stage to create a one-of-a-kind one piece!
(Click on any image to see the pattern)
What's your favorite swimsuit style?
Stay tuned for tips on finding the perfect cover up…