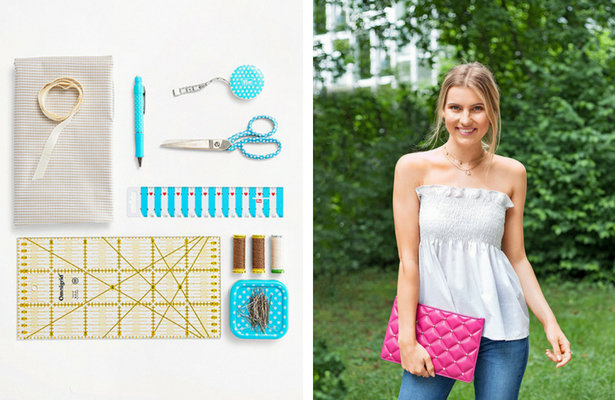 ShareThis
SWEET SMOCKING! Enjoy the last warm days of the season in a checked top with elastic shirring. All you need is some elastic, a sewing machine, and the perfect fabric to transform a rectangle piece of fabric into a top perfect for layering and fitting to many different bodies.

Smocking is coming back in a big way on the runways and fashionable streets of New York City! Whether it is a tube top, blouse, or T-shirt – smocking provides a detail that forms to your body, and it's so easy to do!



+ Cotton checked fabric
+ Petersham ribbon for the straps
+ Elastic thread
+ Thread
+ Quilters ruler
+ Small ruler
+ Straight pins
+ Scissors
+ Chalk pencil
+ Tape measure



Step 1: Cut the cotton fabric: Measure around your bust and multiply by 1.5. This yields the fabric width. Determine the length as desired.
Step 2: Finish the centre back seam edges with overlock stitch. Then press the upper and lower edges each to the wrong side, twice 0.5 cm (3/16") wide…



Step 3: … and edgestitch in place, tying off the beginning and end of stitching with back stitches.
Step 4: Wrap the elastic thread on the bobbin by hand (not too loosely). Use normal sewing thread as the upper thread. Lower the tension of the upper thread. Practice stitching on a scrap of your fabric.



Step 5: On the outer side of the fabric, stitch approx. 2 cm (¾") long, at the desired distance from the upper edge (here approx. 3 cm/1¼"). Knot the two thread ends together – do not backstitch at the beginning of the stitching!
Step 6: Now continue stitching, ending at the beginning of the seam, the fabric is shirred automatically. On the outer side, only the sewing thread is visible. The elastic thread is on the inside.



Step 7: At the end of the stitching, again knot the two thread ends (sewing and elastic threads)together. Repeat the shirring stitching as often as desired and spaced as desired.
Step 8: Lay the centre back seam edges together, right sides facing. Stitch the centre back seam with 1 cm (3/8") wide seam allowances. Press the seam open.



Step 9: Try the top on and determine the strap length. Cut two pieces of petersham ribbon to this length. Pin the straps in place then stitch them in place.
Finished!



If you prefer, simply use a longer piece of fabric, to turn the top into a dress! Want to do more smocking? See some of our patterns that feature smocking below:



top left: Girl's Smocked Skirt; top right: Smocked Maxi Dress; bottom left: Smocked Waist Playsuit; bottom right: Smocked Maxi Dress