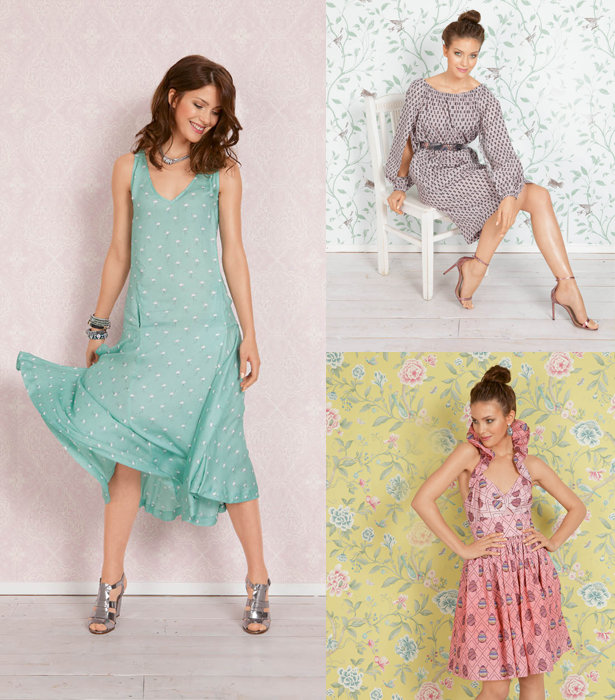 ShareThis
We are debuting our first pattern collection from the 04/2015 issue of BurdaStyle magazine here and it does not disappoint! This collection consists of 9 sewing patterns that are flirty, fun, and colorful. Find your perfect summer dress to sew in this collection, because there are some great ones to choose from.
Click the pattern image to purchase the sewing pattern…

Fuchsia/Lavender Abstract Printed Cotton Voile; Peach Pearl Floral Cotton Voile; Chaiken Almond Cream Italian Stretch Cotton Woven
This dress will turn heads when you walk into the room. It has a close fitting bustier with a full skirt with wide waistband, like the iconic Fifties silhouette. The most eye-catching trait is the wide riffled halter strap that hugs the neck.

White Stretch Cotton Woven; Alice & Olivia Bleached Sand Crinkled Cotton Gauze; Famous Designer Off-White Cotton Woven
These stylish culottes are fresh and bright and have a swinging silhouette due to the pleats. Heels are a must with the midi hemline as well.

Blue Radiance Silk Wool; Infinity Silk Crepe de Chine; Blue/Purple Geometric Printed Cotton Poplin
This colorful jumpsuit has a plunging neckline, bound lapel, trumpet sleeves, and loose fitting legs. This jumpsuit is chic and nice to wear to a number of different occasions.

White Woven Checked Cotton Batiste; Semi-Sheer Cotton Batiste; Olive Polka Dots Embr & Eyelet
The wide neckline is gathered with elastic to create that classic carmen style. Slits in the sleeve make this dress unique. The silhouette is loose but would look great with a belt to cinch it in!

Fairest Jade Silk 4-Ply Crepe; Ralph Lauren Dark Blue Polka Dotted Silk Crepe; Carolina Herrera Turquoise Silk/Wool Woven
The silhouette of this dress is very similar to that of the beloved 1920's flapper dress. It has a midi hemline that ends mid calf and a tank style neckline.

Italian Pink Rose Printed Cotton Woven; Pink/Green Abstract Cotton Poplin Print; Pink Dotted Swiss Lightweight Cotton
Even beginners can easily sew this mini skirt. The pleats provide this skirt with fullness and movement which make this skirt perfect for summer!

Aqua Cotton Canvas Polka Dots; Retro Dots on Burgundy Cotton Voile; Italian Light Aqua and Beige Dotted Cotton-Viscose Jacquard
This dress
is full of lush ruffles and because of that it has ample movement! The silhouette is slightly flared and it has spaghetti straps.

Candy Pink Polka Dotted Cotton Voile; Veiled Rose China Silk/Habotai; Black China Silk/Habotai
What looks sophisticated and complicated, can actually be easy to sew! This simple top is shiny sewn in silk satin, and the two layers gives it dimension makes it modern. Wear with jeans or dress it up with a skirt.

Metallic Blue/Black Abstract Jacquard; Navy Floral Jacquard; Donna Karan Primary Blue Stretch Italian Wool Challis
This jacket/blazer fits nice and close at the waist and is embellished with pockets and buttons. It is finished off with a Peter Pan collar that really adds a unique and unexpected touch to the blazer.
Want to sew all of these patterns? Get them all here at a discount.
Happy Sewing!