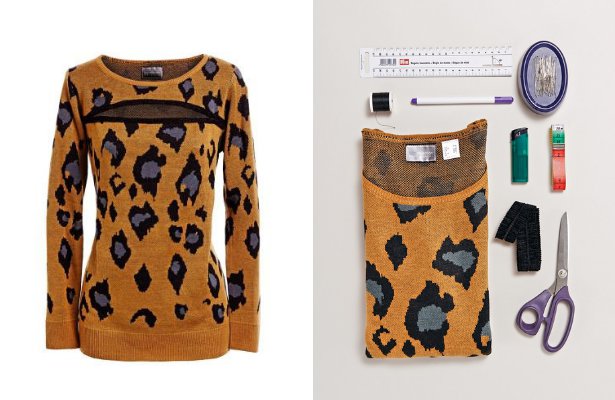 ShareThis
Transform an old sweater into something interesting by adding a trendy cut out! It's so easy, and everything that is needed to create is certainly already at home in your sewing room.
Photos: © Jan Schmiedel

+ Scissors
+ Pullover
+ Hand sewing needle
+ thread
+ Tape measure
+ Fabric marker
+ Pins
+ Lighter
+ Braid strap / bias tape (double folded)



Step 1: At the front, 6 cm from the neckline, draw the line in the slight downward bow to the sleeve. Cut open.
Step 2: Cut the braiding the slit length twice, and melt the ends with a lighter to seal. Wrap slit edges around the openings and pin in place. Then stitch. Omit the lighter step if you are using pre double folded bias tape!



Step 3: From the armhole, put together the openings together for about 5 cm, then sew the edges together with a zigzag stitch on your sewing machine.
FINISHED! Too cold for cut outs? Then wear a chic, monochrome long blouse under the sweater – this style we love on autumn days and in winter!
You can also make this style in a new project – just create the slit markings on the pattern and separate! Try using one of these sweater patterns:



top left: Ribbed Cuff Shirt; top right: Knotted Turtleneck; bottom left: Plus Size Shirt with Belt; bottom right: Neckband Shirt

We love this animal print version! You can wear an eddy sweater cut out so many ways, and these are our favorite ways to style it… For everyday pair with a slim fitting pair of pants like these with a colordul pair of booties. Or you can dress it up with a skirt like this faux wrap one for a pop of color!