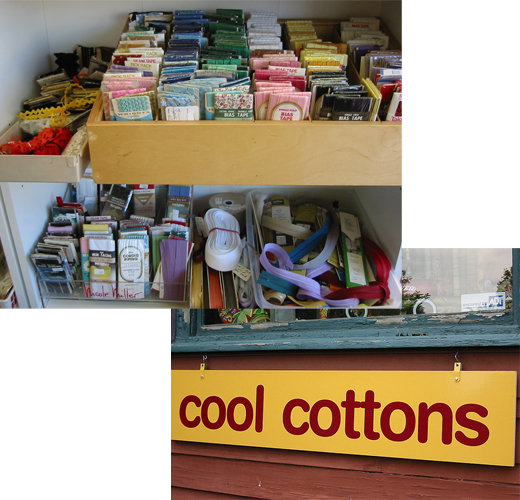 ShareThis
Hi, I'm Susan Beal — I'm a writer and crafter in Portland, Oregon. I write a daily craft blog called West Coast Crafty, and I co-wrote Super Crafty with the PDX Super Crafty collective. I also have a new book coming out in March called Bead Simple. I love sewing and designing my own clothes and accessories, and I'm very excited to be contributing to BurdaStyle! I'm hoping to focus on indie designers and events, and all kinds of sewing and fashion resources for crafters. I'll be posting every two weeks and I'd love to hear what you think of my column… thanks for reading!
Sewing Resources in Portland
For my first regular column, I wanted to spotlight some of my favorite places to shop for fabric, notions and all things sewing in my hometown of Portland, Oregon. Many of these shops do online sales, swatching, or mail order, so even if you're not in town you might like to browse their websites.
2136 NE Alberta St, Portland
503-287-BOLT
This colorful shop has a well-edited selection of prints and patterns, from bold to delicate, at great prices. Look for stylish apparel and home dec fabrics as well as great extras like plain hemmed tea towels, fabric paints, indie patterns of all types, and notions galore. They also offer classes on basics and beyond.
Don't miss: a great selection of graphic Marimekko fabrics.
2417 SE Hawthorne Blvd, Portland.
503-232-0417
This lovely shop, on the first floor of a beautiful old house in Southeast, offers a huge mix of fabrics for quilting, apparel, and crafts. The store is incredibly user-friendly, with tons of space and a gigantic cutting table in the back that's great for effortlessly looking over all your selections at once — and perfect for quilting projects. The owners offer a regular open crafting night and classes in quilting and other home-dec projects, and they're happy to give advice and tips on everything from basting to appliqué.
Don't miss: their new quilt block of the month club — a 1930s project with a different Art Deco floral pattern available each month.
7530 NE Glisan St., Portland
503-255-3022
This crafty thrift store has an ever-changing and ever-affordable mix of vintage fabrics by the yard as well as remnants, laces and trims, notions, patterns, buttons, beads, embroidery supplies, felt, and everything else you never knew you needed in the way of vintage crafty! The shop is organized by genre, with fabric and sewing supplies as a major component. The owners also take special requests if you're looking for something specific.
Don't miss: the vintage rick-rack, seam binding, and lace collection or the vintage linens room.
521 SW 11th Ave, Portland
503-224-4202
Josephine's carries beautiful, opulent fabrics of all types, from wool and cashmere suiting to dupioni silks and brocades, along with a nice selection of notions, patterns, buttons and trim. The shop has a fantastic sale twice a year and offers sewing classes at all levels as well. Look for the inspiring sample garments displayed around the store to get ideas on your own projects, too.
Don't miss: the gorgeous Liberty prints.
Button Emporium + Ribbonry
914 SW 11th Ave., Portland
503-228-6372
This small, pretty shop carries ribbons of all types and styles, along with a huge selection of vintage and new buttons individually or in larger quantities. It's just a few blocks from Josephine's on the streetcar line — and one of the Portland Fiber Arts District shops (along with Knit Purl and the Playful Needle).
Don't miss: the vintage glass and celluloid buttons on their original cards.
700 SE 122nd Ave., Portland
503-252-9530
This cavernous store carries just about anything you could possibly imagine in the way of fabric and sewing supplies. Join their mailing list or check their website for their frequent 30% and 40% off sales, which get incredibly crowded — but if the cutting counter is mobbed, just take your fabrics to the wholesale area, where you can have your materials cut and pay for everything at the same time, saving yourself two long lines. During the summer, they also have an Outdoor Sale with many fabrics marked down to $1 or $2 a yard.
Don't miss: the never-ending wall of notions (especially during sales!)
9701 SE McLoughlin Blvd, Portland
503-786-1234
This shop also has a huge selection of sewing supplies and fabric, including bridal and home dec specialty areas. Their laces and trims are particularly nice. Join their postcard mailing list to find out about their 25% off sales, too.
Don't miss: The Annex at the back, which offers tons of yardage and remnants at a steep discount.