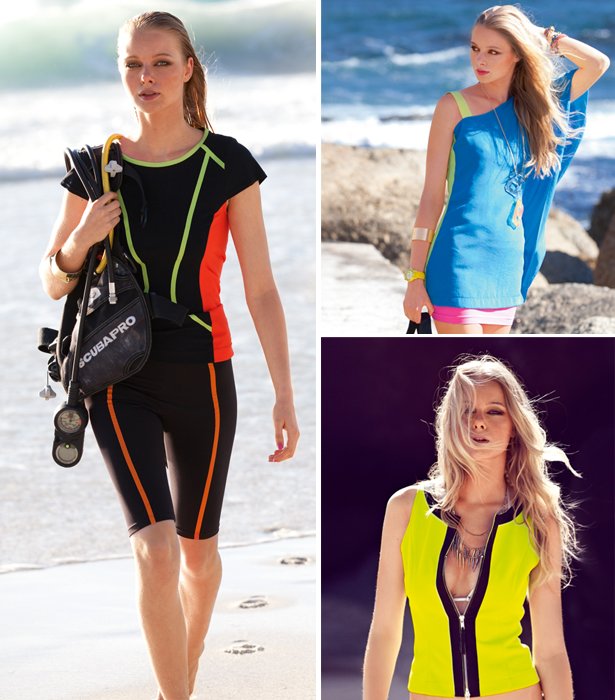 ShareThis
Here we have a sporty new pattern collection from burda style magazine's June 2013 issue. The style is cool and sporty beach wear that can also be worn elsewhere. We love the black and white neutrals with pops of neon details. Check out all these totally rad, surfer styles!
This transparent Blouson Jacket has a unique mesh lining and smocked cuffs, great as a windbreaker for those cooler summer days. We love it paired with this orange cut little drawstring Mini-Skirt with patch pocket.
This short beach Mini-Dress with elasticated waist is great for throwing over a bathing suit!
This Net Tank makes whatever you wear underneath shine through! It is easy to sew and cool to wear.
This form-fitting Zipper Dress is super flattering on the body because on the black side panels. The full front zipper adds a great detail and is super edgy!
This short Panel Dress is so edgy, and puts a different spin on summertime dressing. All the different panels makes this dress perfect for color blocking, and since it is made in jersey, it is so comfy and cool to wear.
This short Zip-Up Tank of solid double jersey is an alternative to the classic shirt for summertime, it also makes a great beach top!
This Asymmetric Tunic is lovely and colorful! It has one contrast strap and one batwing sleeve that blows in the summer wind.
These knee-length Cycling Shorts made of solid, elastic jersey are super great for summer activities. The contrast piping gives the shorts a cycling look. And we love the it worn with this matching T-Shirt, it really gives this good a wetsuit style for the beach!
Happy Sewing!