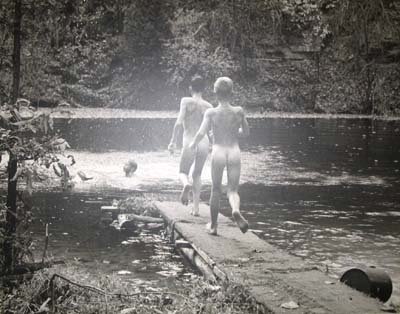 ShareThis
This time last year, I was packing my bags. I'd received a grant, a month of free food and lodging upstate and permission to do nothing but go for long walks and write, my two favorite occupations. I sublet my place, bought a new pair of sneakers, and took off for the country. It rained all month, basically, and so I didn't do as much walking as I'd planned; neither did I write as much as I hoped, though I wrote quite a bit. But it was nice to get out of town for a while, and into some relative seclusion; my sojourn upstate punctuated what I already sensed as a time of transition for me. I was leaving behind my life of fashion, and magazines articles, and concerts, and gossip, and retreating into my art. When I returned to the City, I shot my first film. I'm only finishing it, now.
Maybe it's just that I've internalized my youthful schedule of school years and holidays, but summer coming on always whispers change to me. Fall, winter, spring – life is busy, time is short, there things to do, people to see and places to be, and it's easy to get caught up in the daily swim of it all. But summer still feels like this grand pause, to me, an opportunity to reset and reacquaint myself with me. I always leave summer a little different than I started it, more me, for lack of any better way of explaining it. And then the leaves start falling and life starts chip-chipping away again, throwing up its not unwelcome distractions. The hardest part about trying to make art, I've found, art of any kind, is finding the right balance of paying attention to the world around you, and sealing yourself off from it in order to create. I like to play some tennis, too, and I like to get to the beach, and hit the occasional barbeque, but mostly, summer is when I like to tune the world out for a little while. It's time.
And so, with that said: I'm taking off. The warm weather's official now, and with a new season around the corner, the day has come for new adventures. All of you who have invested your time in my meandering thoughts for the past few months – thank you, and I hope that every once in a while, I've managed to entertain or engage you. More than anything else, I hope I've inspired you, occasionally, to find your own balance between the world outside and the world within, the frolic of trends and the firmament of personal style. Don't be surprised if you hear from me again now and then, but for my last column, as well as a few tips on navigating bikini season, and a few thoughts on what the summer has in store, I'd like to leave you with a last piece of advice: Don't take mine. You can go your own way.
This week BurdaStyle says hello to summer, and goodbye.