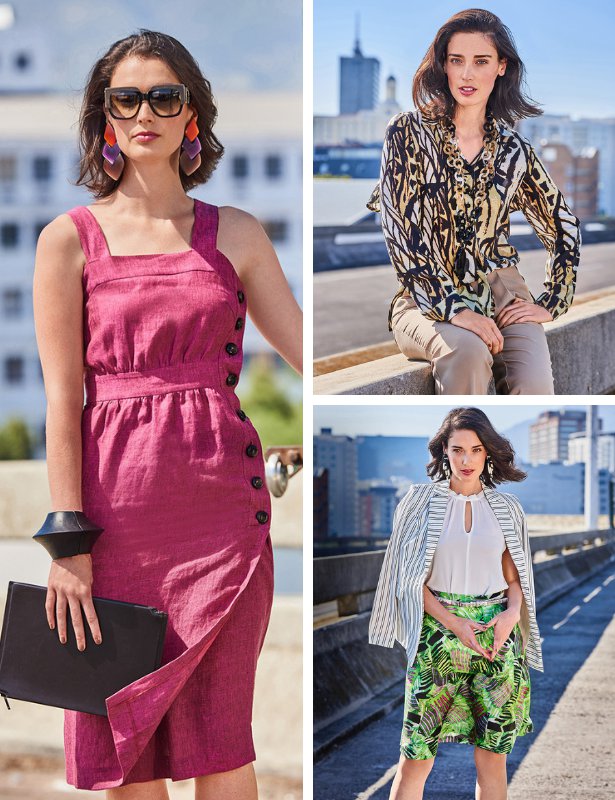 ShareThis
These flowing fashions from the 06/2019 issue of BurdaStyle magazine are dreamy even in high summer temperatures and are the perfect canvas for bold and vibrant summer fabrics with sophisticated details.

This blouse style is designed with the proportions of tall women in mind. A colorful print, extra-wide sleeves and cuffed sleeve hems underline the look. For those who find the neckline too deep, you can either wear a top underneath or fix it in place with a single hand stitch.



Whether you style it sporty, as shown here, or in an elegant fashion with pencil trousers or skirts, this tunic with its V-neckline in front and back and a tying belt is sure to fit your style.



Greet the day with a slight swing thanks to this flared skirt sewn in a flowing silk blend. The narrow shaping waist band sets it perfectly in place.



This well-crafted bouclé fashion piece is accentuated by topstitched petersham along the edges in a stylish modern French jacket look – an absolute stunner that pairs with jeans as easily as with an elegant shift dress.



So elegant. This top features gathered straps and a deep neckline in a faux wrap look that beautifully lets the decolleté draw attention.



Here is the ideal city dress! An ultra-comfortable look that holds its shape on long and hot days – and thanks to the faux wrap style and sophisticated strap detail, also quite classy.



Large scale prints are perfect for this simple top because no panel seams disrupt the pattern. The cut lends itself, of course, also as a super template for solid basics.



A sewn-in flounce for the back panel adds an additional flirty swing for this on-trend animal print blouse. The high side slits can tuck casually in the front waistband of trousers and skirts.



The print and the remarkable zipper detail get special notice thanks to the straight line cut of this skirt. The zipper is backed with a fabric band so that even fine hosiery can be worn easily (and flawlessly) underneath.



A fuchsia linen and contrast color buttons in a horn look are simply fantastic for this breezy strap dress. The band at the waist is a visual draw that shapes the waist beautifully.


Sew up ALL these summery styles with the discounted pattern collection bundle here!