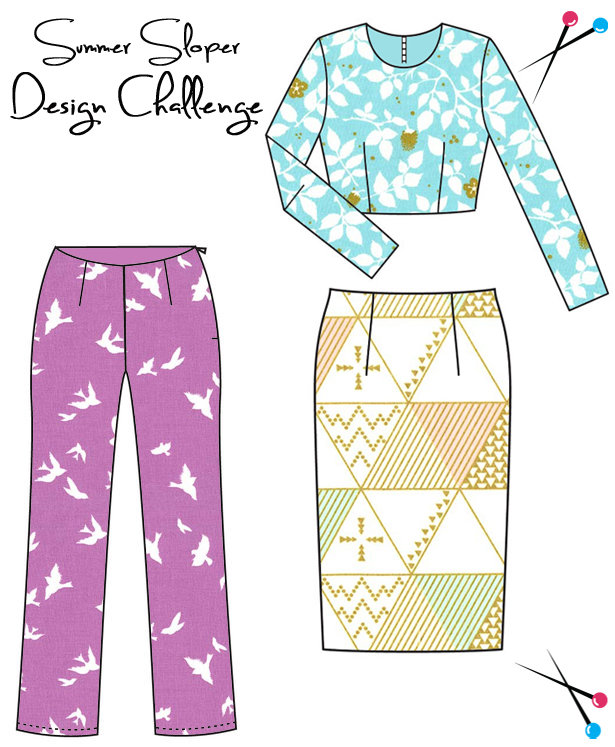 ShareThis
We want to see what you're making with BurdaStyle's original slopers. Tag your projects to enter this sewing contest and win a BurdaStyle.com and Michael Miller Fabrics prize pack! Update: Entries are now closed. Stay tuned for voting and a special project gallery! Cover image swatches: MichaelMillerFabrics.com.
BurdaStyle.com's sloper patterns have been a huge hit with our members, and we want to see what you're making! Upload any design you've sewn up with a Burda garment sloper for a chance to win a fabulous prize pack from BurdaStyle and Michael Miller Fabrics (more prize info below!).
You can use any BurdaStyle sloper: the Basic Pant, Basic Bodice and Sleeve, or Basic Skirt. Or, combine them to make a dress or jumpsuit! You can purchase these slopers individually, but why not get a little extra inspiration with one of our sloper and video bundles?
The Digital Design Collection includes all three slopers, plus tutorials for Adobe Illustrator, Photoshop, and transferring style lines, all with fashion design in mind. The Pattern Modification and Drafting Technique Collection Bundle includes the bodice and skirt slopers, plus detailed videos like how to adjust the bust size of a pattern and how to draft a circle skirt. Coming up with an entry is so easy with these kits!
Sewing Contest Guidelines
Make ANY garment using any of our 3 basic slopers: the Basic Pant, Basic Skirt, or Basic Bodice and Sleeve. Upload your project with "Summer Sloper Design Contest" somewhere in the title and link to the sloper of your choice.
This contest is open to all BurdaStyle members.
Deadline: August 14, 2014
To enter this sewing contest, you will need to upload your project by Thursday, August 14, 11:59 PM EST. The BurdaStyle team will then select five projects for a vote and YOU will choose a winner. Voting will close August 22 with the winner announced August 25.
We are looking for creativity, personal style, and well executed design. Anything goes, from party dresses and cosplay to office wear!
What You'll Win

Top projects will also be spotlighted in a gallery, so start those sewing machines!
Please sends us any questions in the comments below, and have fun!