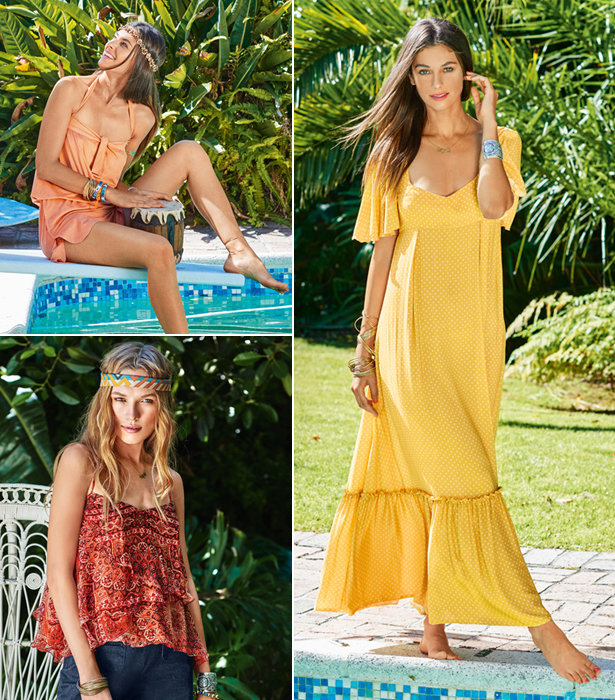 ShareThis
Sunshine, best friends gathered together, opulently patterned dresses, tops and more all with a boho vibe. It's everything you need for the party of the year and you can find it in this new collection from the June 2016 issue of BurdaStyle.
The pattern of this dress uses flowing skirt panels and wide sleeves that are a perfect background for abundant floral print fabrics. The deep plunge at the neckline is a sexy contrast to the the sweet look of the fabric.
Featuring batwing sleeves and a wide ruffle at the hem, this empire waistline ruffled dress sewn with a lightweight viscose batiste and with laid-in inverted pleats is an ideal choice for hot days.
This casual romper features a loosely fitted halter top with shorts on bottom. The shorts have rounded slits at the sides and pockets in the seams. It is sewn in a soft imitation suede for a pure summer look and a tying band at the bodice lets you comfortably adjust the width.
This striped shirt works for everyone and never goes out of style – and thanks to the length and width-wise piecing of this texture flocked jersey, as well as the golden buttons – it can also be an exciting look.
Delicately cascading, colorfully printed chiffon and multiple layers of flounces are a winning combination for this spaghetti strap blouse. The lower hems are rolled for a beautiful finish.
This kimono looks like there is a lot of work involved, though it is a quick and easy sewing project. The sleeve and lower hem of the boho-look kimono are decorated with a wide fringe trim.
Get all the patterns in this collection at a discount in the bundle here!.
Happy Sewing!