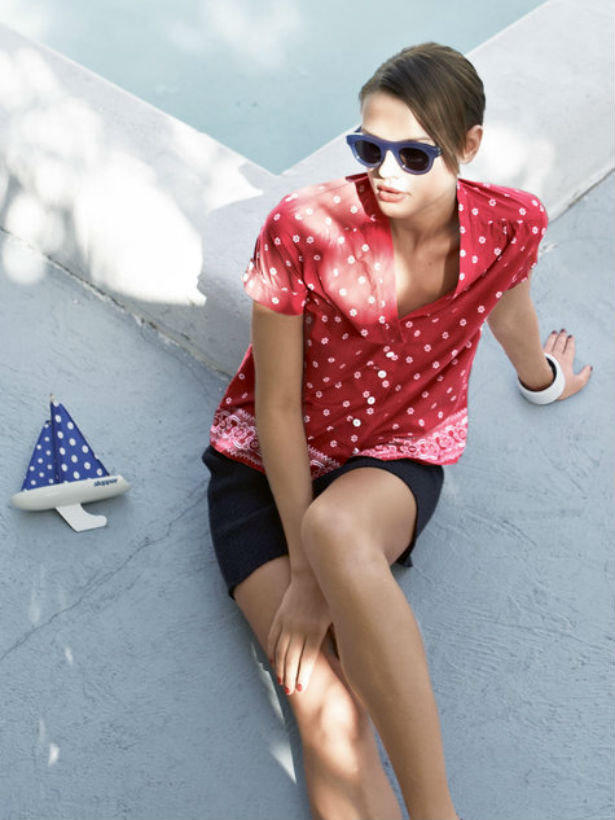 ShareThis
When the weather is hot and humid, there's nothing worse than clothes that stick to your body and make you feel even hotter. Unless you're opting to go au naturel to keep cool this season, here are the best fabrics to incorporate into your summer sewing.
Natural fibres are your friend when it comes to staying comfortable in the heat. Cotton is known for its breathability and moisture-wicking properties. The porous fibres absorb and release moisture quickly, a definite plus when you're sweaty and sticky all over.
Loose and lightweight cotton sundresses, skirts and tops are summer essentials. Look for cotton in a batiste, voile, eyelet or lace for an even breezier feel. The eyelet sleeves on this tunic add a feminine touch.
Linen is another natural fibre known for its cool, breathable feel. Much like cotton, linen is very absorbent and will draw the excess moisture from your body, while still feeling dry to the touch. Speaking of sweat; the antibacterial and antifungal properties of linen will keep it fresher than some other fabrics. Another plus: it's a natural insect repellant! The airy Linen Shirt Dress is a classic summer staple.
Silk is a great choice for dressy occasions on hot days. Ultra lightweight and absorbant, this body-skimming fabric won't leave your skin feeling smothered. A delicate silk dress or silk tank will look both classy and cool.

Click here to watch the step-by-step instructional video for the Silk Tank!
When it comes to synthetic fibres, rayon is one of the most popular choices for summer. Rayon is both lightweight and breathable, and the thin fabric allows moisture to evaporate quickly and stay dry. Rayon drapes beautifully and doesn't cling to your body- its perfect for long, flowing garments like the Box Pleat Maxi.
Knitwear garments are always comfortable and easy to wear… and the summer is no exception! Stretch cottons or jerseys are lightweight, breathable, and allow you to move freely. The fine knit of this Draped Dress falls beautifully. You can wear it as a beach coverup or an everyday dress!
>
Sheer fabrics like chiffon, organza, lace and tulle are great option for keeping clothing as lightweight and breezy as possible. A pretty, printed chiffon works perfectly with the Sheer Wrap Dress. Or try a sheer overdress and spice up a simple dress without adding extra weight or warmth.
Garments with sheer mesh panels are a major trend right now as well. It's a subtle way to show a little skin and stay cool at the same time! Try out the Illusion Neckline Dress.
Whats your favorite way to beat the heat in the summertime?