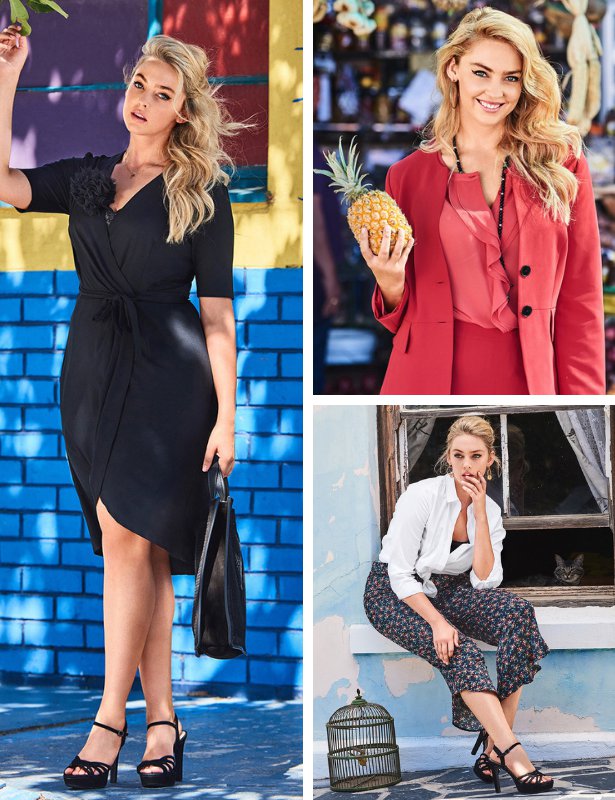 ShareThis
Holiday vibe 100%: These colorful styles from the 06/2019 issue of BurdaStyle magazine with ultra-feminine details circulate great cheer!

The top of the look is a proper trouser style and the bottom kicks into fiesta style. A fun look with flounces at the hems that have a positive vibe and look great with a plain T-shirt or in a complete suit style with the blazer.



An unbelievably fiery look! A wrap dress with cropped sleeves, a rounded hem that draws the eye toward beautiful legs, and narrow sleeves with a deep neckline that visually stretches the figure – sexy!



Thanks to a delicate silk, this charming floral print has an especially elegant look. Self-covered buttons and a looped band decorate the neckline.



The individual pieces are on first glance, quite plain, with a squared neckline and 3/4-sleeves. And yet you get drawn in with the deep shade of black and the tailored fit that is both feminine and dramatic. Put this on the sewing list right away!



This collarless blazer shows the details. The skillfully designed shaping panels, flap pockets and some contrast color buttons is a look that is sure to put you in a good mood, while also being quite a proper style for the office.



These waistband trousers are breezy, lightweight and totally feminine. The floral viscose adds a beautiful and soft drape to the hem flounces for a bit of swing in every step.



Let your summer skin shine in this blouse sewn in a turquoise crêpe. While the cut is a bit demure, the flawless cuffs get an extra glance – and you, of course!



This wrap dress sets the shape for an absolute "wow" figure. A plunging neckline and rounded hems counterbalance with narrow sleeves that accent for beautiful arms and shoulders.


Sew up all these colorful summery styles with the discounted pattern collection bundle here!