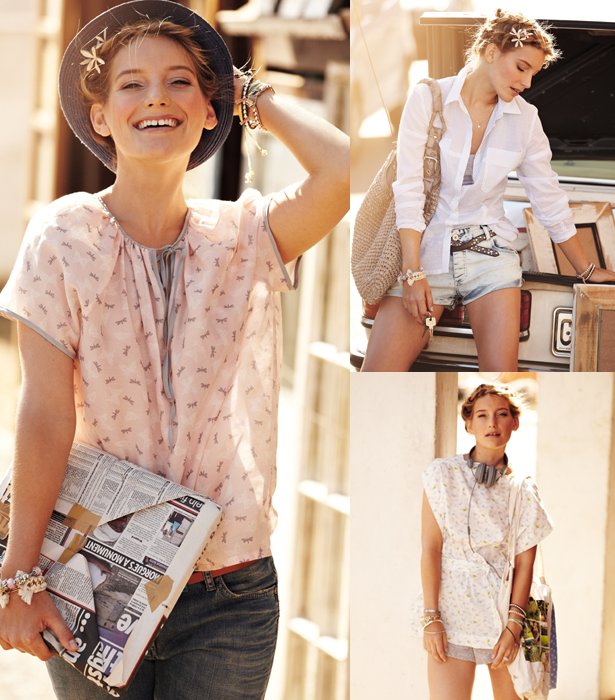 ShareThis
Check out this wonderful collection of blouses from the July issue of burda style magazine. These light and airy blouses are perfect for summertime and offer both comfort and style.
The blouse is back; cool, young and casual, combined with hot-pants and denim. This blouse pattern collection will keep you both feeling and looking cool. There are a variety of sleeve lengths and silhouettes and we love all the neat details! Scroll down to see for yourself.
This is a sweet short sleeved Necktie Blouse with a front keyhole. This blouse has neckline gathers secured by bias tape that ties in a lovely bow at the front. With the loose fitting silhouette, this top makes a comfortable and cute top perfect for wearing in the daytime.
Here we have the Puffed Sleeve Blouse which has 3/4 length sleeves that gather into a band. We love this transitional blouse and think it is casual and romantic.
This is the super cute Belted Blouse with interesting shoulder details. It has a square shape and when tapered in by a belt this top has a great silhouette. We think this blouse will look great with all your summer jeans and shorts, and we love the fun print it is made in!
This is the Collared Blouse which has long sleeves and great seam styling! We love all the seaming in the sleeves and bodice and think that it gives the blouse a unique look, you could even sew this blouse in many different fabrics that panel together.
Here we have the Yoke Blouse .This is a classic long sleeve blouse with button-up front closure. It also features a deep front and back yoke that would also look great in a contrast fabric. We think this blouse would look great with rolled up sleeves and paired with your favorite ripped jeans.
This is the asymmetrical Front Pleat Blouse .It features pockets in the side seams that offer plenty of space without adding bulk. We love this fun blouse, and think it would look lovely worn with a cute pair of shorts.
Whatever your style is, you can make these blouses in a variety of fabrics to meet your needs. Everybody needs a good blouse in their wardrobe so you should try sewing up one or all of these stylish designs. Through layering, these summer blouses can easily transition into your fall wardrobe!
Happy Sewing!