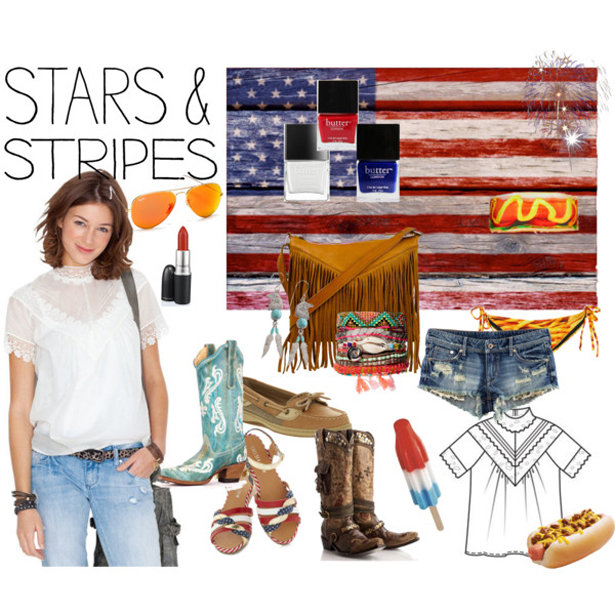 ShareThis
This week's pick is coming early to celebrate the Fourth of July! We're giving the Vintage Lace Blouse an all-American makeover.
Happy Independence Day, everyone! The fourth of July always makes me feel a little extra patriotic. In honor of the red-white-and-blue holiday, I wanted to give you a casual, barbecue-ready look. The Vintage Lace Blouse was the perfect choice. Originally published in 1952, this feminine style is sewn up in delicate batiste with lace details at the front, back, and sleeves. The high neck is prim and proper, but the sheer inserts definitely add a flirty touch! Styled with some all-American pieces, this charming blouse looks just as good at a backyard cookout as it would with a neat pencil skirt or dark jeans.
Working with a vintage Americana theme, I had to pair this sweet blouse with (what else?) distressed denim cutoffs. For shoes, you can never go wrong with an embellished cowboy boot. American-as-apple-pie topsiders or sandals would look great, too. This top lets you work the Western theme with your accessories. Think turquoise, hammered silver, piles of bracelets, and fringed suede. If you're really feeling patriotic, slip a fast food inspired bikini on underneath.
Finish off with a bombshell red lip (like MAC Lady Danger), red-white-and-blue manicure, and a classic pair of aviator shades. Grab a bomb pop and a chili dog, and you are good to go!
What's your take on this vintage style? Do you like our Western look? Or are you more of a slim skirt and tea party kind of girl? Let us know in the comments, and have a safe and happy Fourth of July!!!
Happy sewing,
Mandie