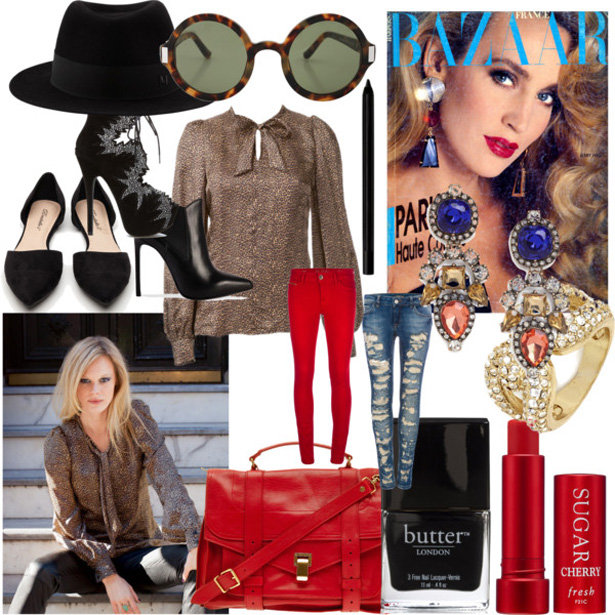 ShareThis
Put together an elegant look worthy of Jerry Hall with the Leopard Blouse.
When I saw the Haute Stuff collection, I loved the rocker chick vibe. The chiffon maxi dresses and leather pants make me think of pieces that Stevie Nicks or Pat Benetar (in a fabulous tie neck blouse, below) might wear on their nights off— not over the top, just a little edge from sheer fabric and animal print.
Leopard print is a girlie girl staple, and you could easily wear this tie neck blouse to the office with a black pencil skirt. I wanted to take it in a punkier direction, styling it up with tough black and red pieces for a look that would look great backstage.
Pair this flowy top with distressed skinny jeans to dress it down, or bright red to really make a statement. Sharp black shoes are a necessity, whether embellished platforms, suede flats, or stiletto booties. Throw your essentials in a fire engine red satchel, and toss on some oversized sunglasses and a Kate Moss-worthy felt hat.
Honor 80s siren (and quintessential rock star girlfriend) Jerry Hall with huge rhinestone earrings, gold cocktail ring, and plenty of eyeliner. A sheer red lip is fresher than matte lipstick, so go with a tinted balm for an easy take on her signature pout.
Are you the type to attract attention in leopard print? Or would you make this blouse in sheer black or white?
Happy sewing!
Mandie