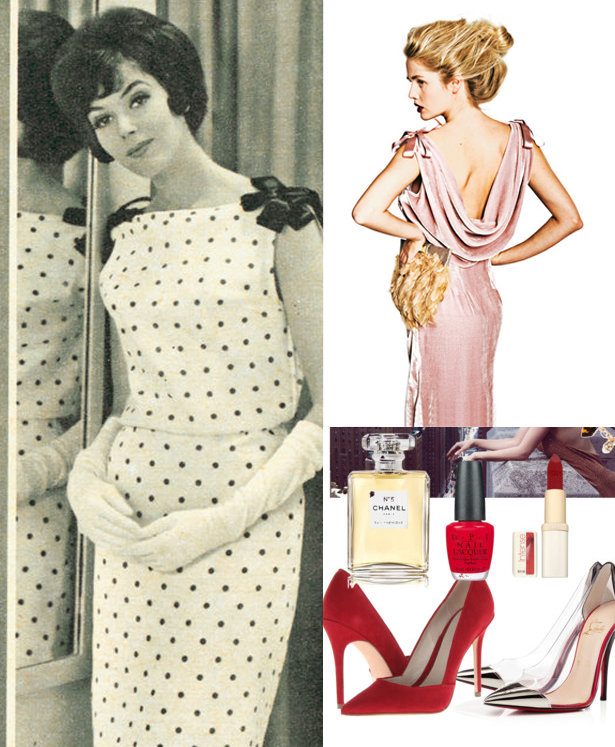 ShareThis
We're having a vintage-obsessed moment here at Burda! Take a look at our most glamorous styling picks, breezy summer outfits with vintage flair, and the patterns and tutorials you need to make them.
In case you hadn't noticed, vintage reissues are some of the best loved patterns on the site. This week, we rounded up nine of our favorite patterns from the 50s and 60s, and you can get them all in one convenient kit for $24.99. The Retro Classics Pattern Collection is a great deal, and we're so excited to have them all in one place.
The patterns in this collection may be vintage, but they have timeless style you can wear right now without looking out of place. We're styling two of the most popular patterns in this collection, the Vintage Dress and Retro Blouse. The Vintage Dress has total femininity, with a draped back and shoulder ribbon ties. Originally released in 1961, this dress would look elegant at a party or gala today.
1950s and 60s Hollywood was a golden age for glamour. Channel the on screen magic of sirens like Marilyn Monroe with the gorgeous Vintage Dress in black velvet. This style lends itself to a classic vintage look, so style it with a perfect red lip, matching pumps, and a cocktail necklace. A little Chanel #5 adds necessary drama.
For the Retro Blouse, we decided to style it two ways. First, a vintage-inspired look complete with a full skirt, just like the original sketch from 1950.
If you like period styles, tuck the Retro Blouse into a full skirt, like the Flared Godet Skirt (shown) or the free Gathered Full Skirt. Add a few 50s touches like a pearl necklace, enamel earrings, and a matching clutch. A fresh color like mint makes the look more modern.
Casual pants like the Floral Skinny Jeans take the Retro Blouse into 2014. This outfit calls for trendy accessories like a straw fedora, bright satchel bag, and pastel jewelry. Don't forget a spring lip color, like coral gloss!
You can find both of these patterns in the Retro Classics Pattern Collection.
Take your vintage patterns to the next level with our upcoming web seminar, Vintage Sewing Techniques: From Preparing Fabric to Finishing Details. Laura Okita is one of our favorite bloggers (she was even a featured member!), and she'll show you couture techniques like a better cutting method for silks, more options for finishing seams, tailor's tacks, and how to add basic embroidery and applique details to your garment. Register now for this foundation course that will give authenticity and polish to all of your vintage-inspired sewing.
Happy sewing!