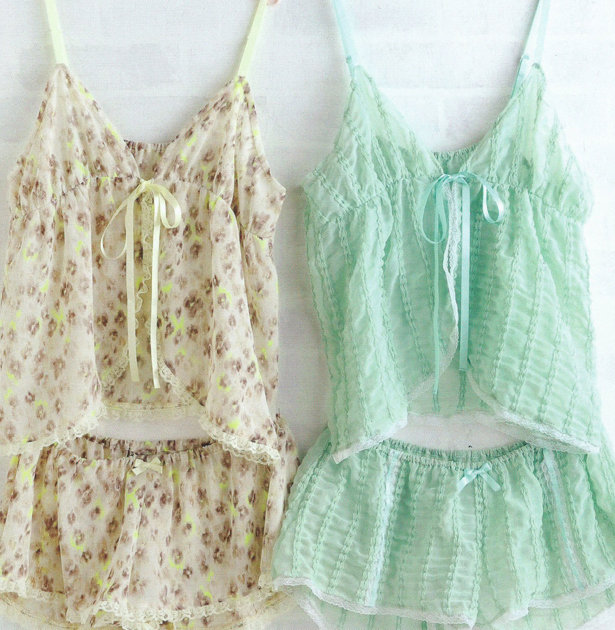 ShareThis
We just got a sneak peek at two of the garments students will be making in the new lingerie sewing course. See how we'd style this adorable camisole and shorts set!
The upcoming Step-by-Step: Sew Your Own Personal 8 Piece Lingerie Collection course will leave students with a full collection of lingerie, including the above 2-piece set. We're already daydreaming about styling these sexy little numbers out of the boudoir. Slips doubling as dresses, bra tops with high waisted skirts for a night out, bed jackets over tank tops… eight pieces of lingerie can be worn in so many ways!
A tiny camisole like the lacy number above is easy to style, and a great piece to layer in these late summer/early fall months. White jeans and a fringed kimono make the most of summer. For a lazy weekend, just add a boho necklace and high waisted jeans for coverage. And when the weather starts to cool, an oversized cardigan and distressed jeans have just the right contrast with a revealing tank. A pair of flats goes perfectly with these relaxed outfits.
The drawstring sleep shorts can also be worn on their own with just a few adjustments. Lace and floral cotton shorts have been popular at festivals all summer. Use this design in an opaque fabric for a romantic pair of shorts you can wear with tee shirts and boots, and you'll be right on trend. The trick to not looking like you just got out of bed is choosing a top with more coverage and polished accessories, like nude strappy heels and a statement necklace.
Fancy some more unmentionables? See the Top 5 Reasons to Sew Your Own Lingerie, or how to style a satin slip for every day.
You can make the above 2-piece outfit in Simone Sangerman's lingerie sewing course, starting tomorrow. Register now, and start measuring for a custom fit lingerie wardrobe you can style however you like!