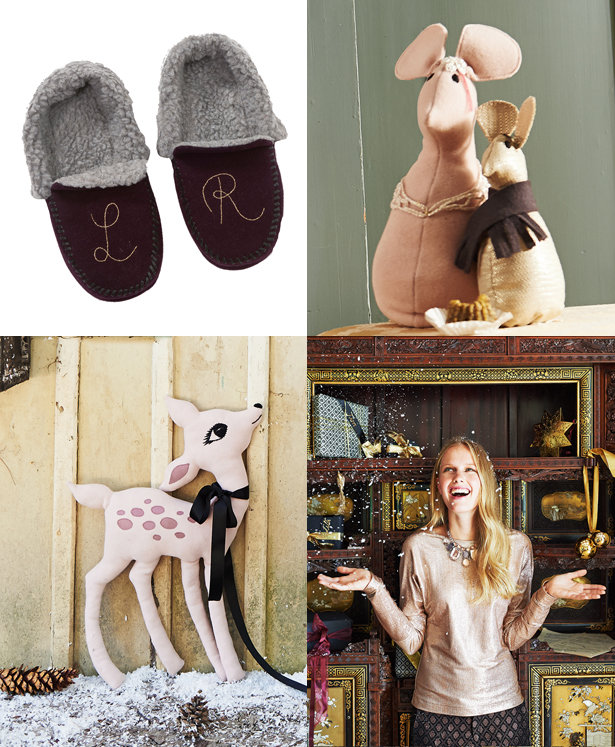 ShareThis
Make Christmas morning even better with the perfect gifts and outfit!
My favorite part of the holiday season is lazy mornings spent with the family. Lots of coffee, a few pastries, and unwrapping a handmade gift are what snowy mornings are all about! But when the cameras come out, you don't want to be caught in sweatpants. Here are a few of our styling picks for lounging with company.
above: Sparkle Top, Jogging Pants, Boyfriend Cardigan, Pajama Style Trousers
I like to wear something comfy and festive, like the Sparkle Top. A pretty top that fits like pajamas is just what you want for a morning wrapping or unwrapping presents. Lamé jersey feels soft but has a little glitz for the holidays, so you'll be dressed perfectly from coffee on the couch to a stylish brunch out. With a little glitter on top, you can keep it easy on the bottom with the Jogging Pants or classic black Leggings. Top it off with a relaxed cardigan you can snuggle up in like the Boyfriend Cardi.
above: Paneled Jersey Shirt, Draped Jersey Top, Leggings, Adult Slippers
The Pajama Style Trousers look cute with a top you can tuck in and show off the folded over button tab. These pants are snug at the waist but loose throughout the hip and thigh for a relaxed, flattering fit. Finish your comfy-cute outfit with an embellished flat or polished loafer that fits like a pair of slippers (or, forget the shoes and make a pair of fluffy embellished slippers instead!). Pour the coffee, and you're ready for morning photo opps!
For what goes under the tree, the Holiday Gift Kit is your one stop shop for gift giving. Flannel men's pajamas, a luxurious robe, and darling embroidered slippers are just a few of the projects in this kit. If you're looking for the personal touch of handmade gifts, but still want a professional finish, this kit is for you! The seven patterns in this kit are DIY gifts you'll be proud to give. You'll also get a beginner knitting pattern and full instructions to make a beanie hat!
What's your favorite part of the holidays? Are you a brilliant sale shopper, or do you just want to stay in and bake cookies? We want to hear from you!