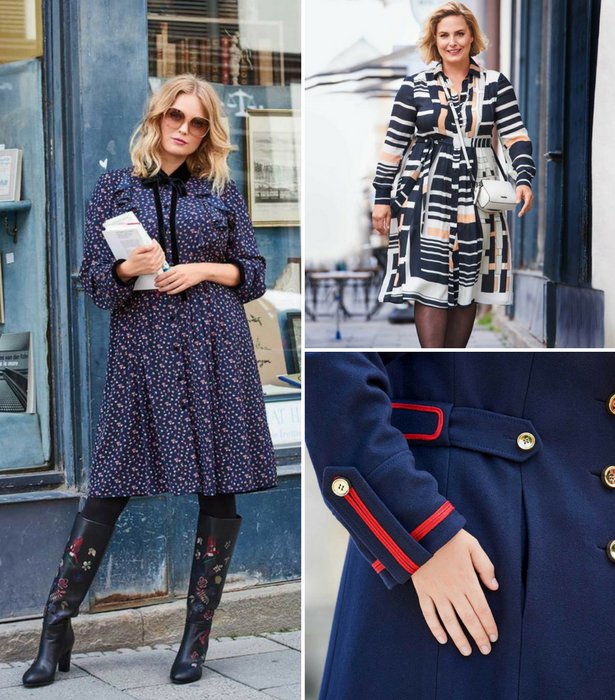 ShareThis
The difference is in the details for this collection from the 11/2017 issue of BurdaStyle magazine. These modern styles are avaliable in plus size 44 – 52 for every style and for every age!

Whether worn relaxed with a T-shirt or businesslike with a blouse, the short skirt sewn with an exposed metal zipper in the middle back is a true must-have. A style that transcends trends over and over again.



Clean lines and a lively print are all that are needed for this everyday choice flowing dress. The blouse collar, cuffed sleeves and full-length buttoning placket style is perfectly drawn in the middle with the self belt. A sewn-in lining on the skirt lets it drape beautifully and not to cling to hosiery.



Softly draping flounces along the bodice and velvet trim are playful details that give this floral print a youthful feel. The collar is velvet, a velvet band is a casual trim at the neckline and velvet trims the hems of the loosely cut sleeves.



Designed to follow sexy curves, the skirt lies flat on top and gets a kick at the hem with an inserted godet panel. For an even greater swing, the side panels are also slightly flared.



The blazer coat is classically sporty with its oversized patch pockets. It draws closed with a band. Naturally, closure hooks could easily be added to the inside of the jacket.



A deep blue wool, shiny gold buttons, shoulder tabs, red soutache and piping trim along the tabs and the cuffs…the masculine uniform details are all there but the real feminine component is the tailored fit of this coat.



The fine silk blouse with its retro feel print and mini ruffles along the collar and placket is a pop of color. The rest of the outfit can be uncomplicated. Couture style: Gathered sections at the lower sleeve.



A poplin fabric breaks up the sweetness of the look, lends the air of coolness and is perfect to give a bit more structure to the ruffle and pleat details. For an even more relaxed vibe, style this top with worn-in denim jeans.


Make all these plus size styles with the discounted pattern collection bundle here!