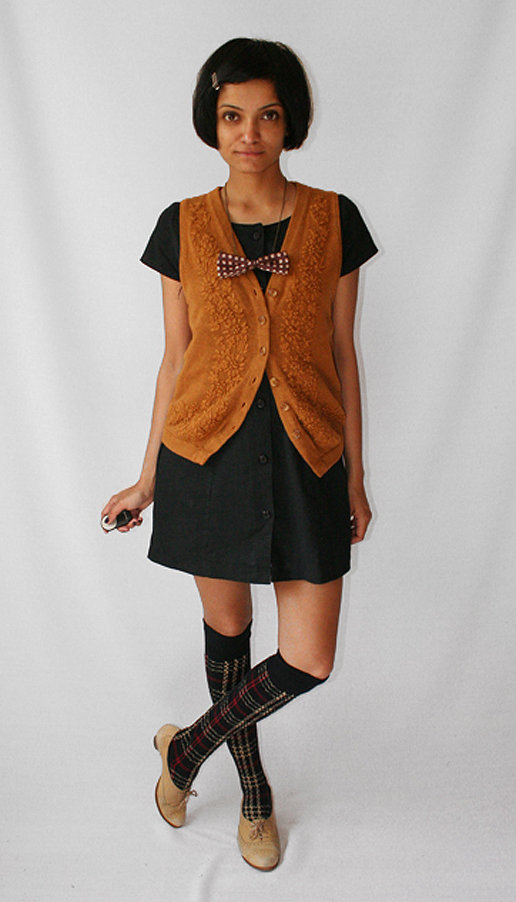 ShareThis
Growing up in Trinidad meant that I spent my entire childhood and adolescence in a school uniform. They were strict about everything- if I wore socks that didn't match, we had to change them or go without, and if our skirts were too short or our blouses were too tight, we'd have to go to the supply closet to wear a new one!
Sheena Matheiken grew up in India, where it was mandatory for her as well to wear a school uniform. Recently, she decided to embark on a activity inspired by her experience called the Uniform Project. Part exercise in sustainability, part fund raising venture, Sheena's decided to wear the same dress a day for an entire year. Boring? No! Each day, Sheena comes up with an outfit that's quirky and inventive, making use of layers, accessories (most of which are donated), thrift store finds, and crafty alterations. The dress itself is pretty innovative- designed by her friend Eliza Starbuck, it can be worn both ways (front-to-back, back-to front) and as a blouse or jacket. The best part about the project is that it raises money for the Akanksha Foundation in India. Pioneered by college students in India, this foundation provides children from the slums with all the supplies (and uniforms!) that they need for school, and also runs summer camps, drama, computer, and dance classes to equip kids with the skills they need to succeed. Every day Sheena donates a dollar to the organization, and also accepts donations of money for the organization and accessories to keep reinventing her outfits.
Check out Sheena's site, as well as the site for the Akanksha foundation. Get involved by donating to the Uniform Project, or even by signing up to volunteer to assist the kids with the foundation in India. Well worth a trip, don't you think?
-Amanda
BurdaStyle Team